1. The Tube
Without a doubt, one of the best things about working in London is its travel infrastructure. The tube is one of the most impressive rail networks in the world and (usually) runs on time. Authorities are slowly but surely beginning to introduce wi-fi across some tube lines, meaning you can always keep in touch with the work. In fact the tube became even more awesome this year, as TFL's plans to start running 24 hours a day were announced. Taxis home after a late session in the office will soon be a thing of the past...
2. Markets
London's market scene has to be one of the biggest and most diverse in the world. The fusion of diverse ethnicities in the city produces the likes of Camden, Portobello, Borough and Bermondsey markets. No matter where you work in the city, you're never too far from one of them – ideal for some lunchtime exploration.
3. Eurostar
Although the old saying goes 'Tired of London, tired of life', sometimes a break is exactly what you need – and France is on your doorstep! It couldn't be easier to start your weekend escape. Simply hop on the Eurostar from St Pancras and you could be in Paris for dinnertime on Friday.
4. Art Galleries
There is art in abundance all over London – especially thanks to 2014's new project entitled 'Art Everywhere'. If seeing famous works by Hockney or Bacon on your commute to work isn't enough, why not pop into one of London's numerous galleries, which include Tate Modern, The Serpentine and the Victoria & Albert Museum.
5. The Overground
Imagine being on the Tube, but with views of London, signal and being considerably less squashed. The Overground is a blessing for those who can't handle the extreme bustle of the Underground and arguably makes for a more pleasant commute.
6. Museums
Just like the art galleries, London is filled to the brim with over 300 museums of all shapes and sizes. Working in London means you have near-constant access to the history spilling out of these museums, and places such as The Natural History Museum make a fantastic visit for your weekends off!
7. Boris Bikes
2014 has seen cycling become a huge trend throughout the UK, no doubt thanks to the buzz created by this year's Tour de France. No matter where you work, you'll never be too far from a docking station, and 24 hours access will only cost you £2 – bargain!
8. Urban Farms
Animal lovers, rejoice. There are 14 inner city farms throughout London providing the opportunity to pet some animals and release your inner child. If your office doesn't allow pets, why not visit one of these on your lunch?
9. Parks
Though there are a great number of nay-sayers who love to complain about the lack of green space in London, they are sadly mistaken. There are eight main Royal Parks in London which make up 4, 900 acres of outdoor space, and there are many more dotted around each borough of the city. Many parks contain lakes, cycle tracks and outdoor gyms, with bigger ones such as Hyde Park hosting music concerts in the summer.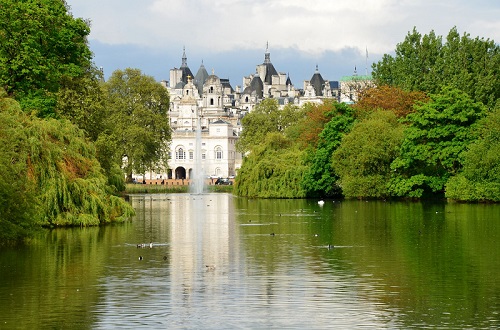 10. 24 Hour City
When you leave work, your city is coming to life. There's such a buzz about London that, if you aren't exhausted from the 9-5, you can carry on partying all night. London offers a wide and eclectic choice of pubs and bars – over 4,500 in fact! There are also a few 24 hour restaurants such as the Duck & Waffle with its famous 40th floor views.
11. Night Buses
Night buses – also known as your saviour while you wait for the unveiling of the long-anticipated 24 hour tube. Us Londoners will have to make do with the weird and wonderful inhabitants of the night buses, which you can always count on for an interesting journey. Getting you from A to B with (relative) ease, if you need an escape from a particularly bad office night out the night bus is your answer.
12. The Queen
Who wouldn't want to work in a place where the Queen also lives and works?! Its patriotism at its best – and you can even check out her humble abode at Buckingham Palace on your morning commute!
13. Famous Commute
Some of London's buses that get you to and from work will take you past some of the most famous landmarks in the world, including Marble Arch, Tower of London and the London Eye.
14. Morning Activities
When you wake up before the city, London is a truly remarkable place to be. In a place usually filled with the hustle and bustle of commuters and tourists, the dawn can be an amazing time. Luckily, there are still things to be done for those earlybirds among you – breakfast at the 24 hour, 40th floor restaurant Duck & Waffle, or perhaps a morning rave with Morning Gloryville to kick off your day? Check out some beautiful pictures of morning in London here http://blog.anthonyepes.com/.
15. The Weather
London's weather works in mysterious ways. No matter what the weather is doing around the country it always seems to be warmer and drier in the capital. On average we have much less rainfall than our northern counterparts – you can leave the umbrella at home without running the risk of being drenched on your daily commute.
16. Airports
The capital boasts no less than five airports, dotted around the city to cater for your every jet-setting whim. If your job requires you to travel on a regular basis, there really is no better place to be based than good old London.
17. Life Expectancy
According to figures from the Office for National Statistics, people living in central London live for an average of 14 years longer than those in Glasgow. This is likely to be attributed to the wealth of great food, fun and fitness activities on offer.
18. Sporting Venues
Sporty types are spoilt for choice in the capital. It is home to some of the most famous sporting venues in the world - Twickenham, Wimbledon, Twickenham, Lords...Perfect for client outings or to let off some steam after work.
19. Salaries
Yes, everything in London may be crazy expensive, but you'll have a salary to match. Average pay in London is higher than anywhere else in the country – do you need any more reasons why it's great working here?!
20. Crazy Buildings
As well as a history-filled commute, you'll also get to see some of the world's weirdest named buildings every day - The Shard, The Gherkin, The Toaster, The Cheesegrater and The Walkie-Talkie to name a few.
21. Shopping
London is up there with the likes of New York and Milan as a shopping destination. It hosts Westfield in Stratford which is one of the biggest urban shopping centres in Europe. Late night shopping is on a Thursday, so leaving the office late is no excuse to 'forget' to buy that anniversary present!
22. After work activities
Rooftop cinema club? You got it. Pop-up shops? Right here. Food festivals, river cruises, the theatre – we really could go on, but we think you get the idea. There's so much to do here, you'll have another reason to look forward to getting out of the office.
23. Entrepreneurship
According to City AM, London is now the 'UK's uncontested entrepreneurial powerhouse'. The daily newspaper recently released figures suggesting that 17 of the 20 best business locations were all in London, and that the Silicon Roundabout is the leading location in terms of start-ups.
24. The Countryside
If the abundance of parks and green space in the city centre isn't doing it for you, fear not. The countryside is so close by, it'll take you by surprise. Kent, also known as the garden of England is a stone's throw away and makes for a perfect weekend getaway.
25. History
London is a city with an extensive and interesting history, and by working in the capital you become a part of its ongoing presence in the world. There are historical monuments of all kinds to be discovered – for literature buffs there is the house of Ted Hughes and Sylvia Plath and Shakespeare's Globe Theatre. History lovers can visit the site of The Great Fire of London and The Tower of London, which remains a huge tourist attraction with its gory tales.