People talk about the "future of work" as being borderless; a place where we combine working in the office with telecommuting from home and in other "third" spaces, such as cafés. But if we're really being honest, that future is…already here.
In 2021, WTW surveyed senior employee benefits professionals at 121 UK companies.
It discovered – unsurprisingly – that hybrid working has emerged as the preferred work model. Just 30% of businesses expect to have their workforce on site full-time before 2023, and 41% plan to embrace hybrid working by then.
The hybrid office space is the key facilitator of hybrid work. In 2020, 68% of CEOs from large firms planned to downsize their office footprint in a bid to save money and leverage the wider talent pool that remote working affords.
Like these CEOs, if you're among the growing number of business owners who have made their first foray into the world of hybrid working over the past couple of years, you've probably been reevaluating your real estate strategy too.
So what is a hybrid office, exactly?
A hybrid workplace is a term used to describe a distributed workforce – teams made up of people that work remotely and in the office. There's no set formula to follow: who works where, and when, depends on the needs of the individual business.
At Free Office Finder, we describe a hybrid office space as one that can facilitate the needs of any hybrid team. Instead of being a fixed asset serving one purpose and model, it adapts to better serve the changing needs of the occupier.
Characteristics of a hybrid office include:
Short or rolling tenancy terms
Short notice periods
The option to scale up or downsize
Hot-desking and coworking setups
Easy-to-reconfigure floor plans
Business services included
A focus on social and network building
Are you looking for a flexible workspace to accommodate your hybrid team?
Just as there's no such thing as a standard hybrid team, there's also no such thing as a "cookie cutter" hybrid workplace either. It's supposed to be versatile.
Because you don't need to worry about providing a desk for every employee, you can focus more intently on making your space collaborative, and enhancing your company culture in ways that benefit both remote and in-house employees.
The question is: if there's no such thing as a standard hybrid office, how do you choose the best one for your organisation? Well, you can start by asking yourself the following:
1. Is it commutable?
Your hybrid office needs to be commutable for your team to want to travel to it. Create a shortlist of offices that are within reach of where your team lives. If your team is made up of people who live in different locations, pick an office with excellent transport links.
Earlier this year, Free Office Finder interviewed Adam Coppel, founder and managing director of the IT company Correct Group.
Adam also considered his clients' needs when securing an office for his hybrid team. "The transport connectivity of our office allows fast response to greater London and our clients need and require this, sometimes at short (or no) notice," he explained.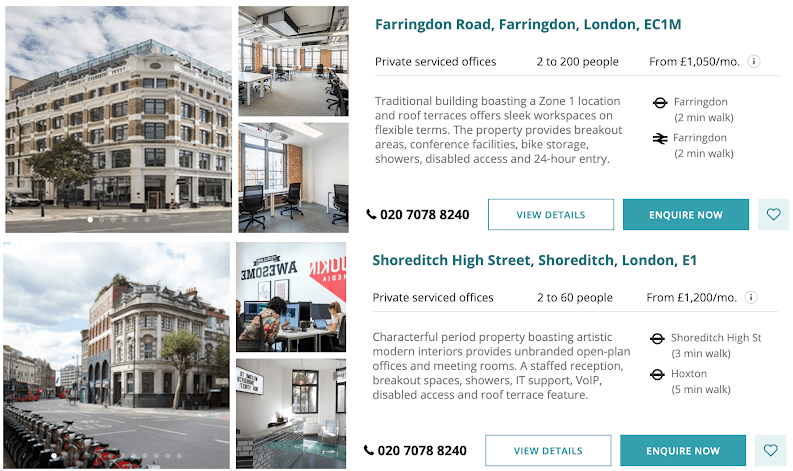 Free Office Finder's listings highlight the office's proximity to transport links.
2. Does it facilitate remote meetings?
Your office's IT infrastructure is just as important as its transport links. In order to collaborate efficiently with your team and run remote meetings seamlessly, you'll need access to superfast Wi-Fi, as well as top-notch conference room facilities.
Check for the following:
Secure Wi-Fi: you'll need enough bandwidth to connect to the cloud, download files and take remote calls without experiencing a dip.
Presentation equipment: for virtual meetings, you'll need access to on-site presentation equipment, such as smart screens and VoIP.
Recording equipment: Depending on your needs, you might require access to microphones, video cameras and other types of recording equipment.
3. Can I leave at short notice?
Don't know where your business will be in six months, let alone three years? You're not alone. To help safeguard your business from future disruption or uncertainty, it's worth choosing a hybrid office that will let you pack up and leave at short notice.
Unlike traditional office leases, many of today's flexible workspaces let occupiers give just one or two months' notice when they leave. It's also possible to sign up for an office for six months, three or even one month at a time to help mitigate risk.
4. Can I take on more space as my team grows?
What are your ambitions for your business? If growth is one, as it is for many, you'll want an office that will allow you to scale up as you employ more people.
Perhaps your goal is to transition everyone back to the office, at least part-time, over the next 12 months. Again, the ability to add more desks as you go will be a huge plus. Most hybrid offices will let you do this, providing they have the available space.
5. How will it add value?
This is probably the most important question. And your answer will help you justify the expense on your balance sheet.
There are many ways a hybrid office can add value to your business. While 100% remote working works well for some, it's not viable for many businesses – and the people who work for them. Hybrid offices can add value in the following ways:
As a magnet for talent
When a job candidate enters your office, they'll get an instant impression of what working at your organisation could be like.
Offering flexibility, access to top-notch amenities and the option to work in a comfortable and collaborative environment sends a clear signal that you value the employee experience.
Hybrid offices are great at attracting Gen Z workers in particular. According to a poll by Generation Lab, 40% of students and recent graduates prefer fully in-person work and 39% want a hybrid workplace. Community, mentoring, office perks and a distraction-free environment are important draws for this generation.
As a place of learning and innovation
Offices are vital hubs when it comes to learning and mentorship because they're better able to facilitate spontaneous interactions. They also allow for "blended" learning – a style that combines online and face-to-face education.
As Adam pointed out in our interview, some professions rely on face-to-face teaching. "Our new engineers ideally needed to sit with their colleagues to learn our processes," he said.
As a centre for community and culture
"In some cases, Teams is far better for collaborative working," added Adam. But he also explained that interpersonal professional relationships are often more effective when colleagues can spend in-person time together.
"Imagine joining a team in an organisation like ours, that supports hundreds of other organisations every day. Each of those client organisations has different work cultures and our staff must work with each of these clients in the way that they want.
"They sometimes need the immediate support of their colleagues to help them do that best. Being together to work is simply better!"
If you're looking for the perfect workspace to support your hybrid team, arrange a call with the Free Office Finder team today. We'll listen to your needs and match you with a selection of hybrid offices that tick all the boxes.