Office space solutions company WeWork have today announced that they are opening a new office space along Hackney Road, marking their 22nd opening throughout the UK and their 3rd this year. They have agreed to rent 143,000 square foot of space of the Shoreditch Exchange development for a minimum of 20 years.
The new space is on track to be finished and ready to open in 2020 – an exciting prospect for locals as it is likely to increase the number of local employment prospects. It is also likely to bring business opportunities in the area, as there is currently a lack of coworking available in the area. Developers Regal Homes are hoping this will help draw in a number of new local talented businesses into the area. They have put aside around 10% of the available space to be offered as affordable space to attract local artists and creatives.
An Exciting Prospect For All Involved
Patrick Nelson, the Executive Vice President at WeWork, spoke about the prospect of it being a vibrant location for local businesses and talented individuals to take advantage of. He said he was excited for the opening so they can add to their 15,000 member base in the UK whilst adding to their already growing portfolio of around 160 locations worldwide.
Joint CEO's of Regal Homes, Paul Eden and Simon De Friend, talked about how pleased they are that WeWork have taken the opportunity and hope that new employment will come to the area as a result of the offering of high-quality workspace alongside such a fun local culture.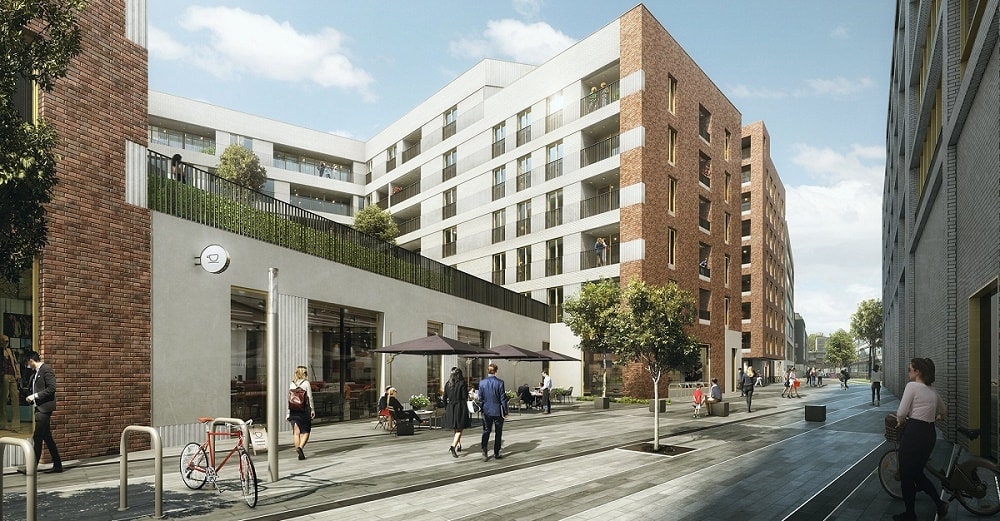 CGI depiction of the Shoreditch Exchange development.
As well as there being a large chunk of commercial space, there will be other opportunities within the Shoreditch Exchange development. This includes a large chunk of public open space and 206,900 square foot of residential space. On the opposite side of the road, a further 150,000 square foot of commercial space and another nine units for residential use will be created in the next phase of the development.
A large amount of work has gone into designing the development to ensure that it works for everyone in the surrounding areas, as well as prospective businesses and future tenants.