Northern Ireland
Northern Ireland is fast shaking off the image of a politically troubled backwater, and changing into one of the most dynamic areas in the United Kingdom. Thanks to greater political stability starting in the 1990s, Northern Ireland's economy has grown faster than that of the rest of the UK. This growth has had numerous positive effects on other areas of North Ireland's society. One of the most impressive is the drastic reduction the region has seen in unemployment. Since 1986, when unemployment was at an all-time high of 17.2%, that figure has fallen to only 7.2% today.
Belfast, Northern Ireland
The region is also becoming a popular destination for investment, both local and international. Major development projects in recent years have changed the landscape of Northern Irish cities. The opening in 2008 of Victoria Square, a commercial and leisure space in Belfast, revived the southern quarter of the city's centre. At that time, it was one of the largest and most expensive developments in Northern Ireland.
Northern Irish Coast
Belfast is also home to Titanic Quarter: the largest urban waterfront in Europe. It is the namesake of the HMS Titanic, which was constructed in the city in the early 20th century. The site comprises a visitor attraction, science park, film studio, education facilities, and hotels. It is home to 755,500 sq ft of prime Central Belfast office space. Another 3,000,000 sq ft of workspace is planned for the future. As of 2011, the Public Record Office of Northern Ireland is also based in Titanic Quarter.
The Giant's Causeway, Northern Ireland
Northern Ireland's transformation has been such a success, that Londonderry was named the first-ever UK City of Culture, in 2013. To receive that designation the city had to go up against fourteen UK cities, including Birmingham and Sheffield. The city's rich history and many sites of cultural significance, as well as increasing foreign investment, helped it stand out as one of the top cities in the UK.
A Peace Mural, Northern Ireland
Many influential international companies have been inspired to set up offices in Northern Ireland. PriceWaterhouseCoopers, Baker McKenzie, and Allen And Overy have all invested in Northern Ireland offices. There has been a marked influx of companies from North America. Market Resource Partners, a company from Philadelphia, made headlines in 2010 by opening offices in Newry, creating 106 jobs. More recently, New York-based financial technology firm Options, invested £2.9million in Belfast business space. Thanks to this investment, 31 highly skilled jobs were created. A Canadian firm, Dalradian Resources, on the other hand, chose to open offices in County Tyrone, rather than Toronto. This decision not only created jobs, but also set up a training programme that will benefit residents in the area. Not surprisingly, it was reported in 2010 that foreign investment in Northern Ireland grew more than any other region of the UK, including London.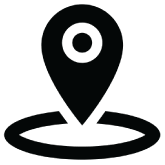 Can't pinpoint the right office?
Give us a call and tell us what you need, we will find it for you. Click here.