10. Garden Pod Offices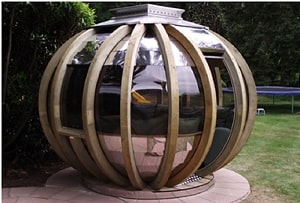 As the number of people working from home increases, so do office options – from shed conversions to office pods, you are free to create your perfect modern workplace. According to BBC statistics, home-workers amount to 13.9% of the whole working population; an all-time high since records began. We here at FreeOfficeFinder love these quirky Rotating Garden Pods! By separating your office from your living space, you'll automatically increase your productivity and be able to focus on the success of your business.
9. Red or Dead Teepee Office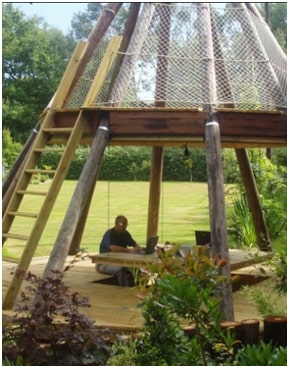 Geraldine and Wayne Hemingway are the design experts behind the unique brand Red or Dead. Their originality is reflected in their summer choice of office – an outdoor teepee! Made from entirely recycled materials this wonderful outdoor space has a large swinging desk and decking seating – perfect for allowing innovative and creative ideas to flow freely and become reality.
8. Brazilian Treehouse Office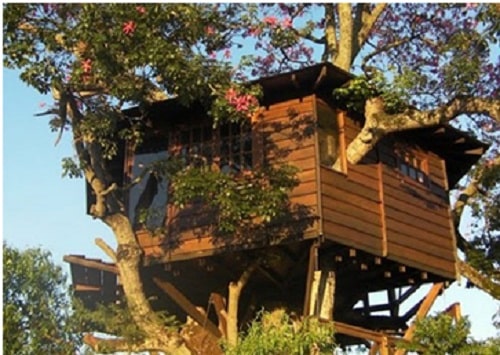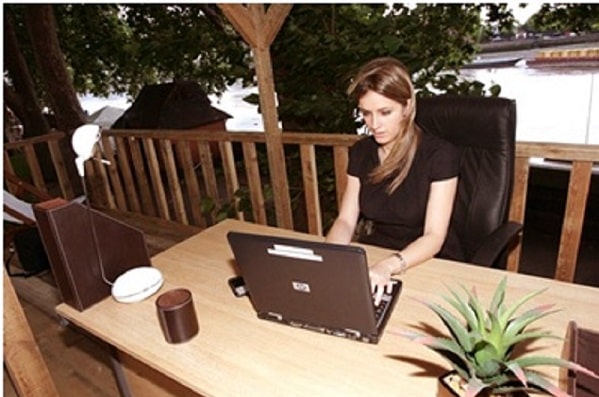 Somewhere, far away in southern Brazil there is a man living out his childhood dream. Ricardo Brunelli is the modern day Peter Pan, and has turned his garden into a functioning office space by creating a seriously impressive tree-house for grown-ups! The space has been formed out of guajuvira which is a beautiful and hard-wearing wood found in South America. We're very jealous of Ricardo's wonderful office – but would-be intruders have a job on their hands; with no stairs or rope ladders, entry is only available via an elevated path which connects to his house.
7. Engine Group Offices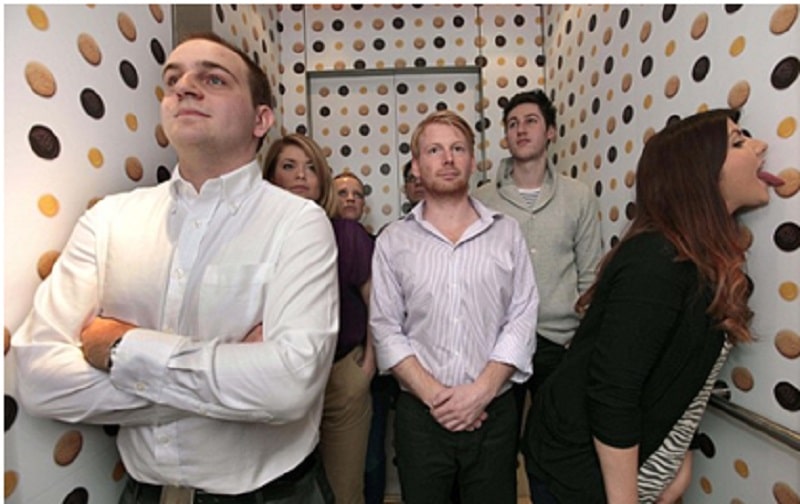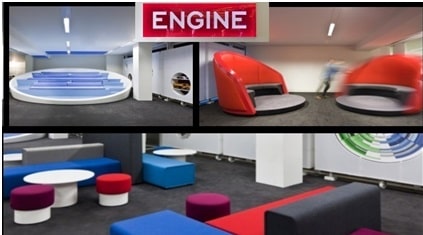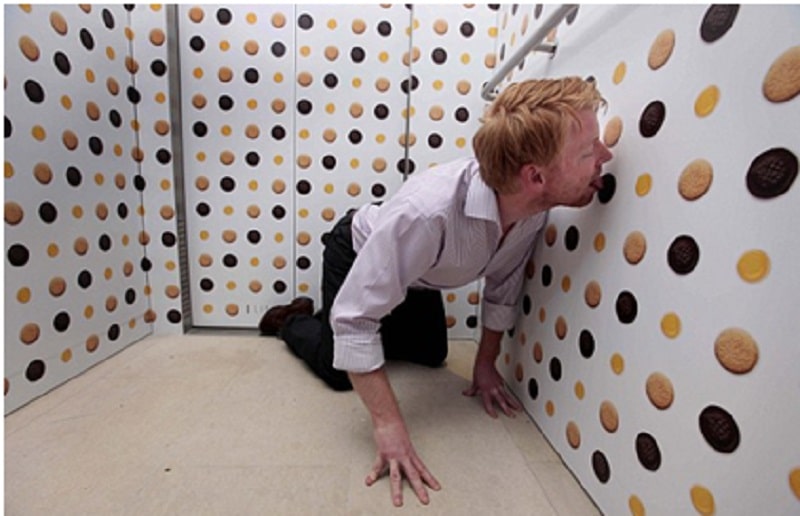 Nothing to see here – just an office with lickable Jaffa Cake inspired walls! This lift has been specially created to liven up the ride to Engine Group's offices in London. McVitie's Jaffa Cakes chief Philippa Tilley explains that company's aim has always been "about bringing a bit more fun to life." Tillley feels the scheme was "the perfect way to get a little joy straight to stressed-out office workers." These are not in fact real Jaffa Cakes, but edible stickers. Germ freaks need not fear though, as there is a sticker-licker attendant on hand to prevent any hygiene worries. Once an employee has enjoyed a Jaffa Cake sticker it is removed and replaced. There are other bizarre features in the office as well, including spinning meeting room pods.
6. Raw Materials PR, Tube Office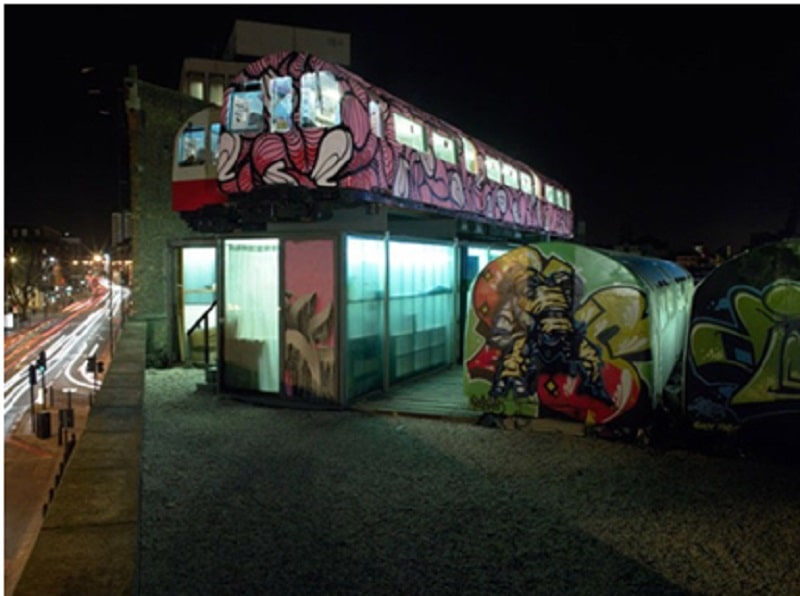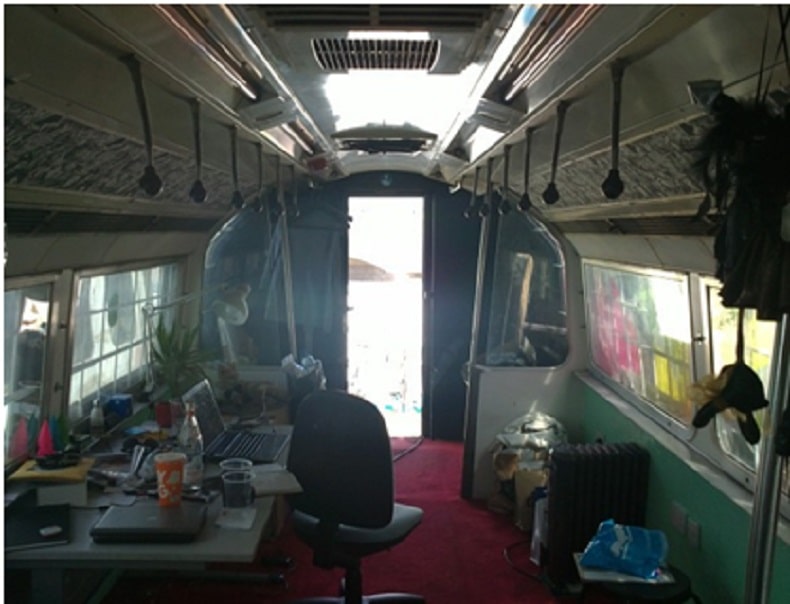 All aboard! Raw Materials PR is a company set up in East London's Village Underground, a quirky location that regularly plays host to music, dance and art events. Their offices have been formed from four disused tube carriages placed on top of two sea containers, a low-cost alternative for creative types looking to reflect their originality in their workplace choice.
5. Grip Limited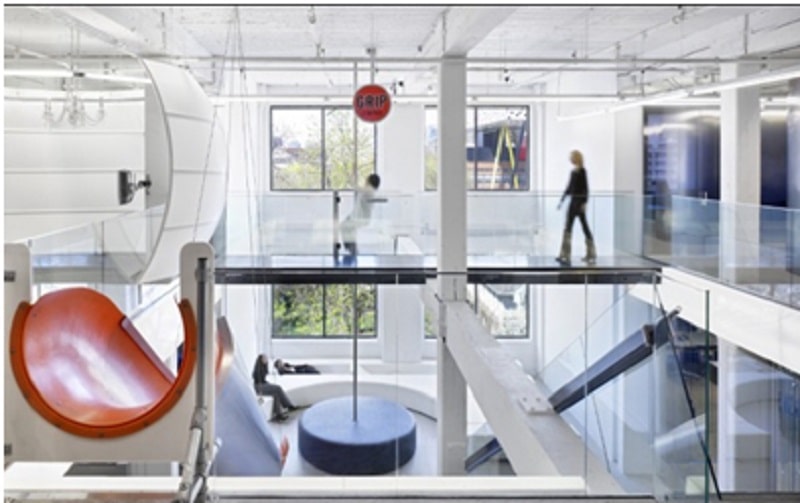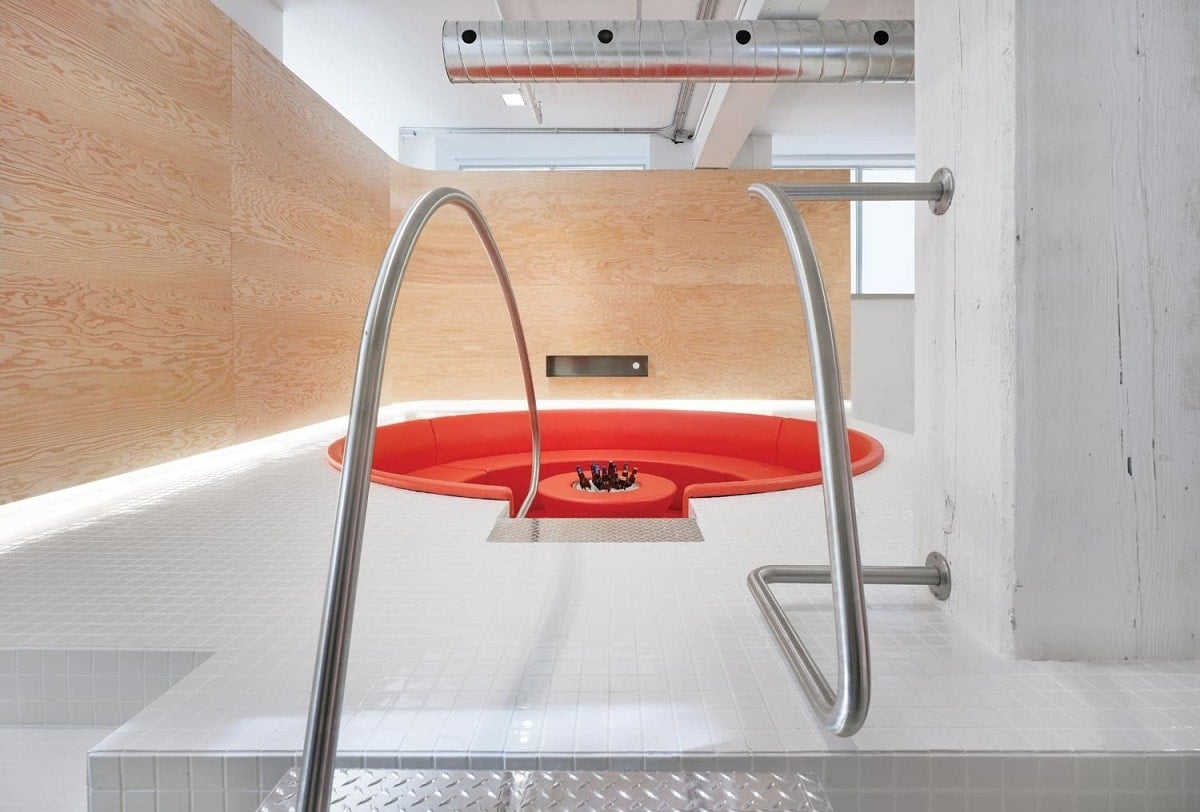 Slides, fireman poles and hot-tubs? Well it's just another day in the office for Grip Limited! The American company has an 'open-concept work space' and aims to arouse creativity in its employees. People can get to one place to another in seconds, livening up their days by momentarily releasing their inner child. The hot-tub design has been created to encourage mental and physical frankness between employees, paving the way for inspired ideas and brainstorms.
4. Bahnhof Bomb Shelter Office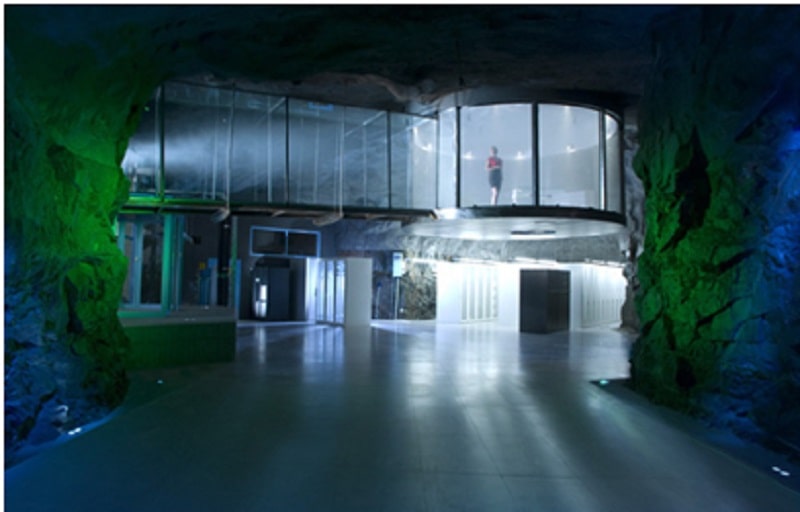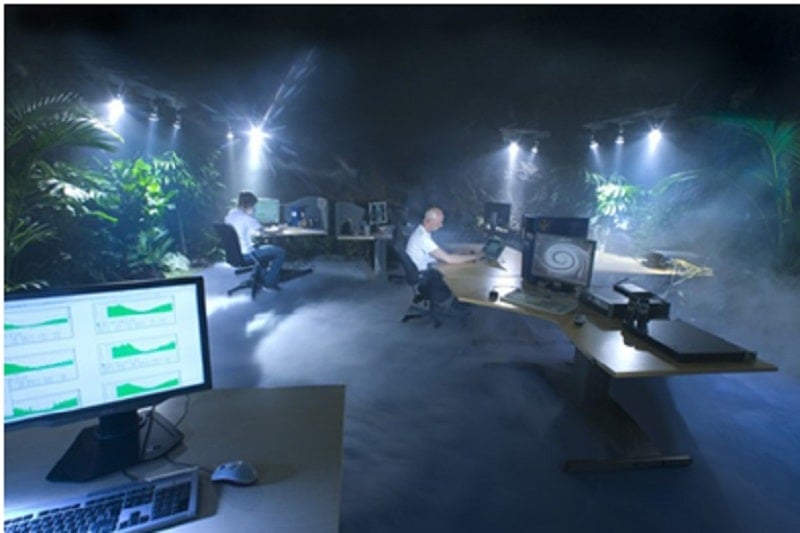 In at number four we have the Swedish internet provider Bahnhof. Located in an old nuclear bomb shelter, underground and in the side of a mountain there's something of the James Bond about this particular office and we're impressed. Access is only available through twelve inch steel gates, and the office's most awe-inspiring feature comes in the form of their 'moon-room'. This circular, glass walled space is where meetings are held, and the workspaces are surrounded by plants and dry ice. It would be like working on the set of a sci-fi movie!
3. Pixar Headquarters, USA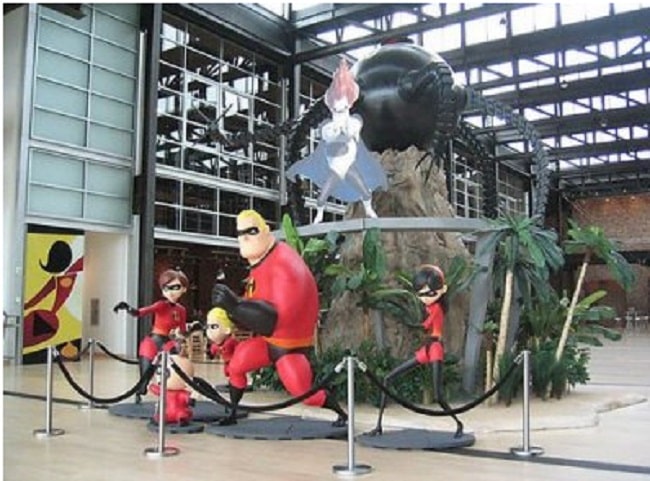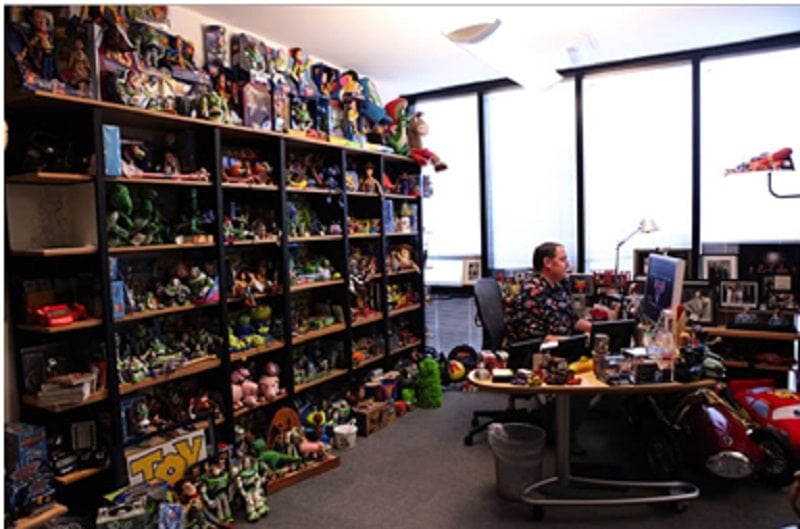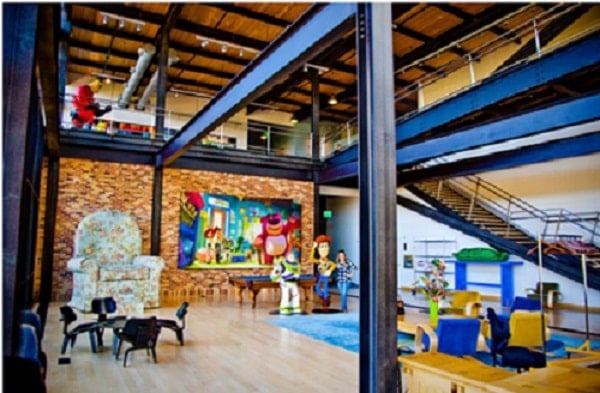 As well as leaving his Apple legacy, Steve Jobs was also the mastermind and creator of these amazing Pixar offices. Jobs was a keen advocate of collaboration in the working environment, and said that if a building fails to encourage this "You'll lose a lot of innovation and the magic that's sparked by serendipity [...] we designed the building to make people get out of their offices and mingle in the central atrium with people they might not otherwise see." The headquarters are home to a theatre, fitness centre, foosball and a cafe. There is even variety in the way employees work; some in huts, others sharing and some even stand while they work. John Lasster is chief creative officer and his office is piled high with toys! Lasseter notes that "if you have a loose, free kind of atmosphere, it helps creativity."
2. Innocent Drinks, London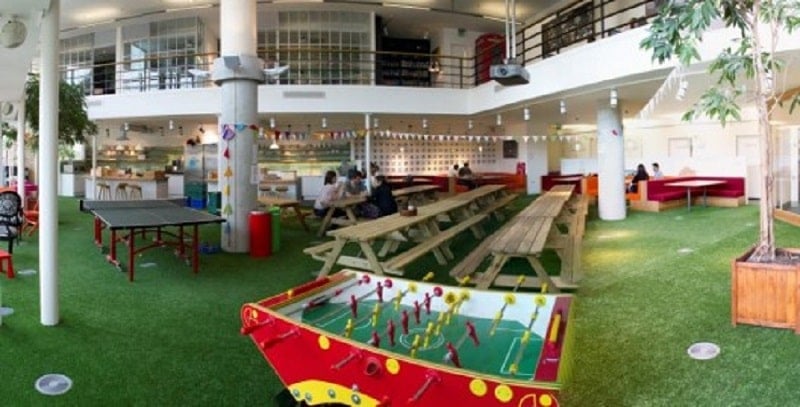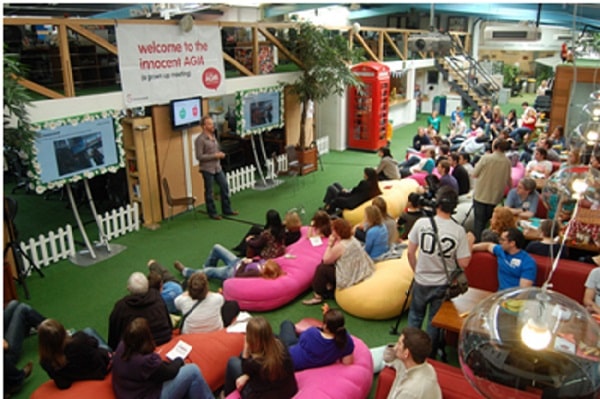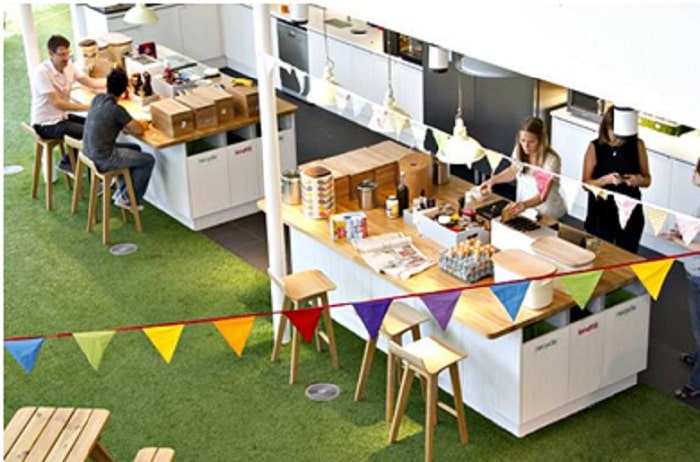 Visitors and employees alike get spoiled rotten on entry to the Innocent Drinks HQ in London – everyone is greeted into the smoothie-testing room where they can try out the very latest flavours and mixtures. The Ladbroke Grove based office is covered in fake-grass and bunting, ensuring a positive environment for the staff. Downstairs in Fruit Towers, you will find ping-pong and foosball tables in amongst wooden benches which give the entire place a relaxed, picnic spot feel. Staff meetings are even conducted on beanbags! Coming in at second place, we think they have a well deserved spot on our list!
1. Inventionland, Pittsburgh USA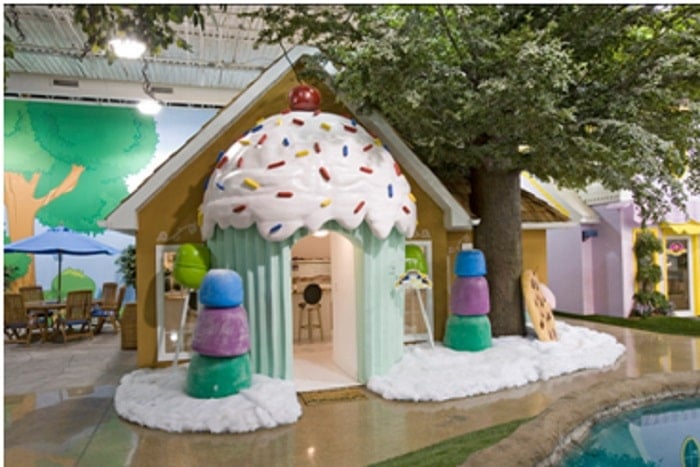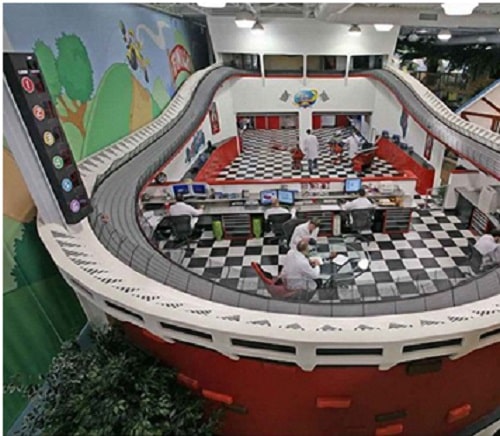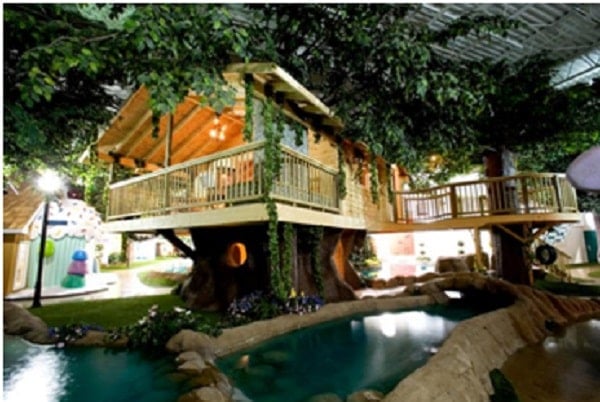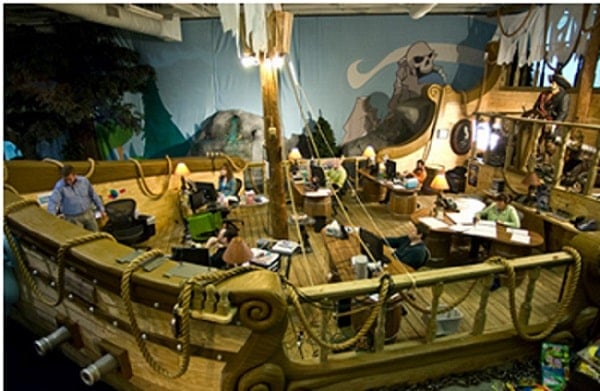 Drumroll please! Going where no workplace has gone before, in at the number one spot is the incredible Inventionland office in Pittsburgh, USA. Each part of this wonderful space is themed, encouraging huge creativity in all the employees. There is a racetrack, gingerbread houses, indoor lakes, caves, tree houses and even a pirate ship! Entry to the office is via secret sliding doors, and there is a huge amount else to be discovered inside. Check out this video tour of Inventionland, and be prepared to go green with envy!