As the massively important EU referendum is now less than two weeks away, we decided to try and find out the way office workers are planning on voting. We asked 10,000 eligible voters from across the UK whether they will be voting to leave the EU, stay in the EU or are still unsure.
We were aware that the general consensus may be different according to where people were from, so we surveyed 1000 people from 10 different UK cities. They were: London, Cardiff, Bristol, Exeter, Birmingham, Leicester, Manchester, Liverpool, Leeds and Edinburgh.
Results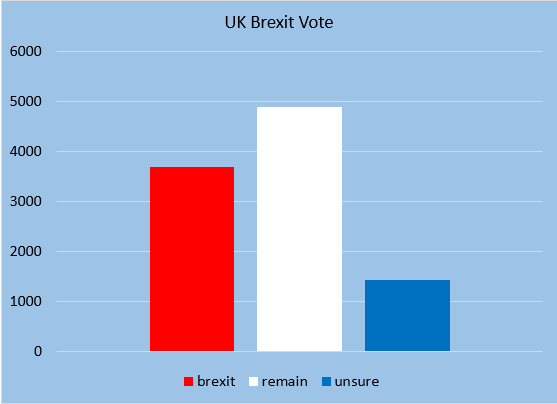 In total, out of the 10,000 people we surveyed across the UK, almost half (4887) said that they will be voting to remain in the EU. 3680 will be voting to leave, while 1433 are unsure about which way they will vote. Although at the moment the remain vote is clearly ahead, the 14% who are unsure are able to swing it in the direction of a Brexit.
UK Cities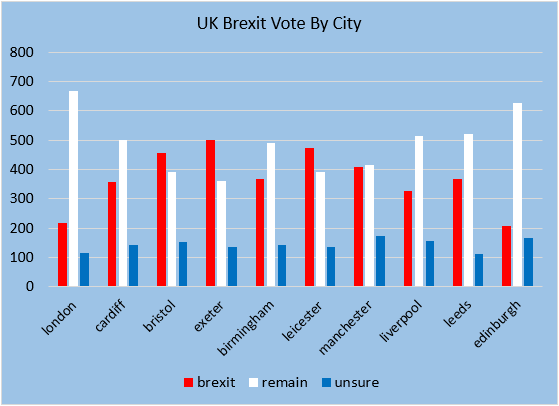 As you can see on the above chart, London and Edinburgh are overwhelmingly in favour of the UK remaining in the EU, with over 60% of participants choosing to remain. Cardiff, Leeds and Liverpool also had over 50% of their respondents saying that they would like to remain as part of the EU.
Bristol, Exeter and Leicester office workers voted in favour of a Brexit, with 45.5%, 50% and 47% respectively. Exeter being the only city with over 50% of participants wanting to leave the EU. In Manchester, although more people said they will vote to remain, there was only 8 votes in it, and with 174 of the participants unsure which way they will vote, it could easily swing the other way.
See below for full area results: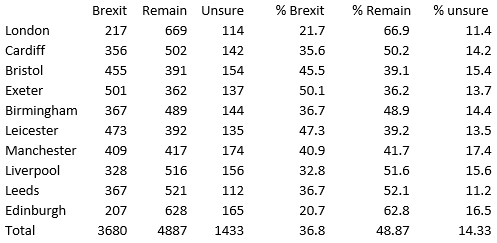 Male and Female
As well as different cities, we wanted to see whether there was a difference in how the genders will vote for the upcoming election. Here's what we found: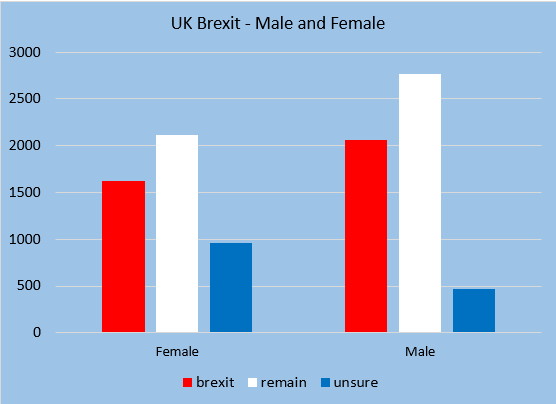 Both males and females who took the survey were comfortably in favour of the UK remaining part of the EU. In total, 52% of the men who took part said they want to stay in, and 45% of the women. 38% of the men surveyed said they wish to leave, while only 34% of the women said the same thing.
Interestingly, 20% of the women in the survey said they are unsure about which way to go, with only 9% of men saying the same thing.
So it looks like remain is clearly the leading vote among office workers in the UK, but the voting is still fairly close. Although we only asked office workers for their opinion, these were across a number of different industries so the results were as unbiased as possible. Whichever way it goes, it's great to see so many people passionate about it.