Google has officially submitted plans for its for its new London headquarters – a 92,000-square metre building, set to house all of the capital's Google employees. Dubbed a "landscraper", the finished building will be longer than the Shard is tall. Construction on the building is set to begin in 2018.
The building was designed by Bjarke Ingels Group and Heatherwick Studios, the team behind TfL's New Bus for London and the 2012 Olympic Cauldron. Rising 11 storeys tall, the building will stretch parallel to the platforms of London's King's Cross railway station.
Floor plans for the building showcase amenities such as gyms, massage rooms, a swimming pool and "multi-use indoor games area" for sports like basketball and football, and a 300-meter-long rooftop garden split over multiple floors. A 200-metre-long running trail traverses roof and employees can enjoy a meal in one of the four cafes, including a main one which spans three storeys.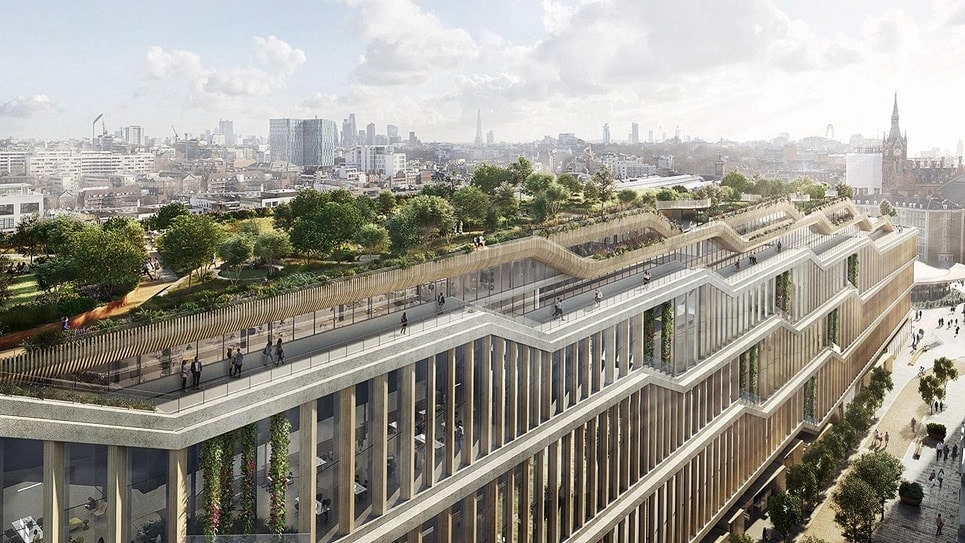 CGI depicting the new King's Cross Google campus building
According to The Verge, Google's staff are currently situated in a number of different sites around London, including other properties in the King's Cross area. The new campus will bring together the city's Google employees, housing close to 7000 of them. The site will be first Google building outside of the US to be wholly owned and designed specifically for the tech giant.
The Heatherwick-designed building was submitted to Camden council. According to Architect's Journal, the entire complex will cost around £1 billion. Google declined to comment on the cost of the project.
Heatherwick said in a statement: "The area is a fascinating collision of diverse building types and spaces and I can't help but love this mix of massive railway stations, roads, canals and other infrastructure all layered up into the most connected point in London."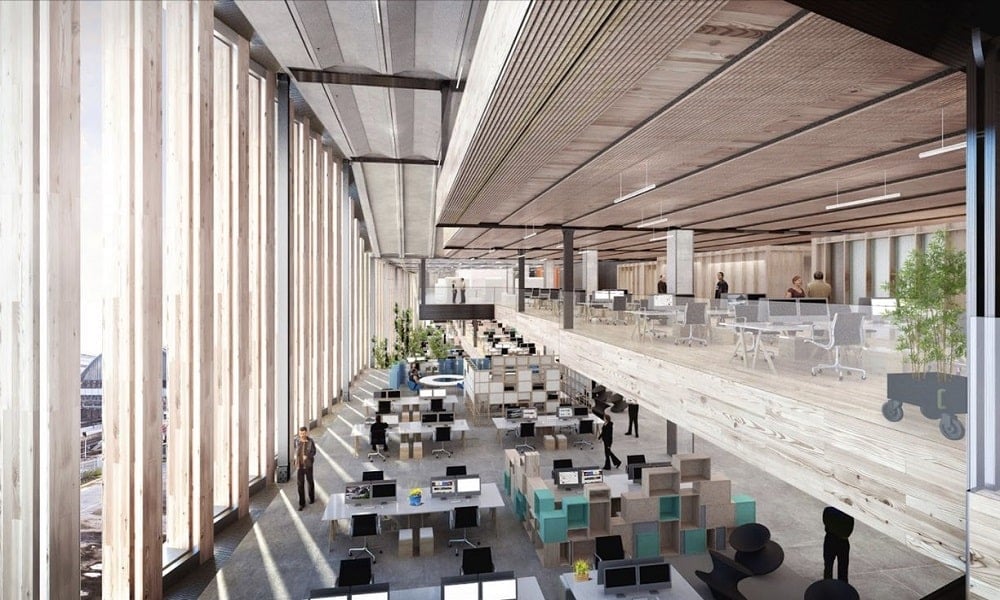 CGI depiction of the Google building interior
"Influenced by these surroundings, we have treated this new building for Google like a piece of infrastructure too, made from a family of interchangeable elements which ensure that the building and its workspace will stay flexible for years to come."
Sustainability comprises one of the recurring points of the pitch. The building's plans show space for 686 bikes and just four car parking spaces, while solar panels on the roof are set to have a combined annual output of almost 20MWh. The CGIs show motorised timber blinds on the outside of the building serve to keep direct sunlight out.
The company's decision to stick with its plans for the HQ was widely seen as a vote of confidence in the British economy following the decision to leave the EU in June 2016. In a speech in Google's London office from November 2016, CE Sundar Pichai said: "Here in the UK, it's clear to me that computer science has a great future with the talent, educational institutions, and passion for innovation we see all around us. We are committed to the UK and excited to continue our investment in our new King's Cross campus."