It is always useful for businesses to know what prices to expect when they are looking for office space. It gives them something to work towards in the future or to adjust their budgets to accordingly. We have used our huge range of data on office prices in various central London locations to create a handy heatmap for those who are looking for serviced offices. We have presented these prices as monthly desk rates. To see the complete heatmap, take a look at the full image below.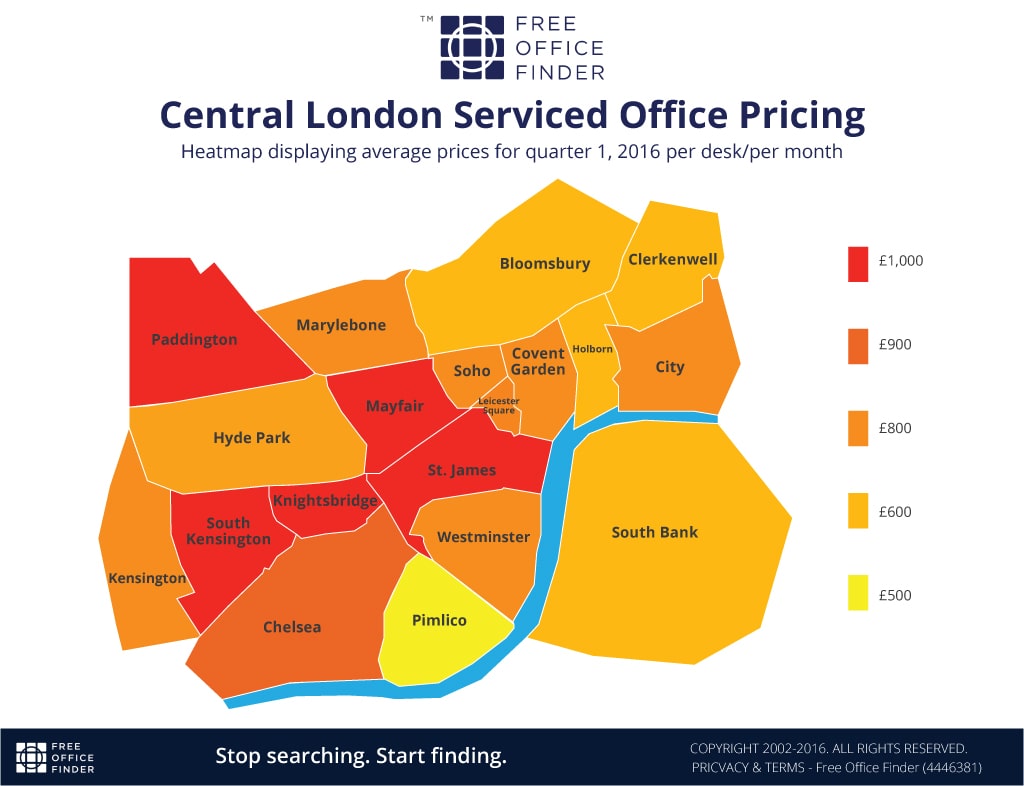 As you can see from the heatmap above, the areas in Central London which are most expensive to lease office space are Mayfair, Paddington, St James's, South Kensington, and Knightsbridge, which will come as little surprise to anyone familiar with central London. Prices for office space cost around £1,000 a month per desk on average in these famously upmarket areas. Areas around £900 a month are The City, Soho, Chelsea, and Kensington areas. Coming down the pricing ladder are areas such as Bloomsbury, Hyde Park, Clerkenwell, and South Bank, where prices sit at around £600 a month per desk. If you want the cheapest monthly prices for your desk space, consider moving out to Pimlico, on the bank of the Thames where prices are around £500 a month. You are still well in the central areas of London for easy business access but will benefit from considerably cheaper rents.
If you have found this interesting and helpful, then plenty of other business owners searching for the cost of leasing office space in central London may well too. Why not share our useful heatmap and help out a fellow business owner? If you manage your own website, you can highlight, copy, and then paste the image code below into your HTML editor, or if you want to share across your business or personal social media pages, click on the share buttons on the side.
Share this Image On Your Site