Hybrid working, where employees divide their time between working in the office and from home, or any other location as it seems these days, has become firmly embedded as a working practice.
Prior to the pandemic, very few business owners who used our service to find an office needed to accommodate hybrid working. Fast-forward to 2021, and more than 85% of our clients require a flexible workspace that can facilitate hybrid work.
Every manager knows that there's more to flexible working than simply allowing employees to work from home a few days a week. As with anything in business, strategy is the foundation for success. Here are 10 tried and tested ways to manage a hybrid team.
1. Communication software
You can't manage a hybrid team effectively without the right technology. Employees in the office and at home need a strong internet connection and software that enables them to meet and collaborate across physical and virtual spaces.
These hybrid-friendly tools are proving popular at the moment:
Slack – you can use Slack as a communication tool to manage different projects and interactions. Assign each project, team and topic their own Slack 'channels'. As well as text messages, you can use Slack for voice calls and video meetings.
Asana – this project management programme is great for assigning and keeping track of projects and tasks. The handy calendar provides you with an overview of project pipelines and statuses, and any pending approvals.
GoToMeeting – as the name suggests, GoToMeeting is just one of the many software applications out there that facilitate remote and hybrid meetings. Multiple people can share their screens and draw/discuss/highlight on a virtual whiteboard.
Survey Anyplace – as a hybrid manager, you should be surveying employees on a regular basis to get feedback. Survey Anyplace lets you design and collaborate on quizzes, surveys and questionnaires. You can easily share the results too.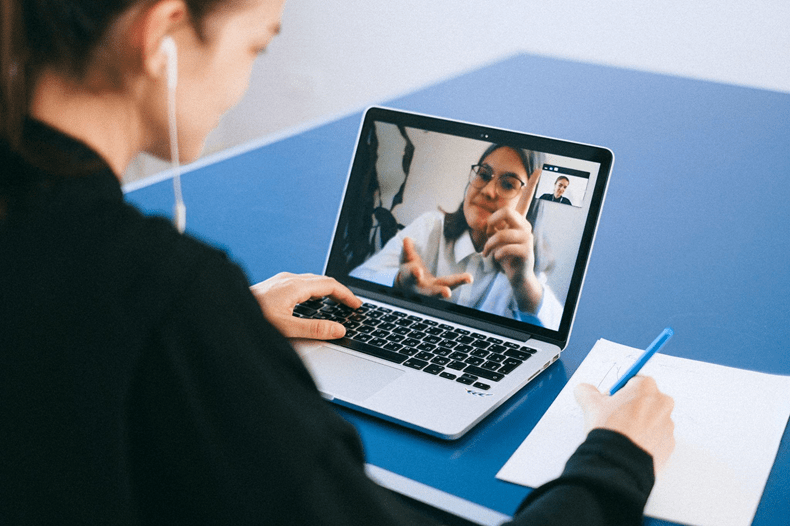 2. Hot-desking
Hot-desking and hybrid working go hand in hand. Hot-desking is a system whereby desks are used by different employees (or freelancers) at different times or on different days. The goal is to maximise your use of space and avoid underutilised desk spaces.
If you have your own private office you can assign dedicated desks to the members of your team who work in the office full-time.
For hybrid employees, consider implementing a hot-desking system. Using hot desks will also allow you to grow your headcount without having to pay for a larger office space. Alternatively, you can discuss coworking memberships with your employees.
An increasing number of firms are paying for coworking memberships for their employees near to where they live. For example, you might rent a HQ in Shoreditch and pay for various individual coworking memberships in Zones 2, 3 and 4.
3. Setting expectations & KPIs
It's important to set clear expectations and KPIs when managing a hybrid team. The key is to do this in a supportive and flexible way.
It can be easy for employees to adopt an 'always on' mindset when they work from home regularly. Be clear that you don't expect them to be working outside work hours, and model this behaviour by emailing employees during work hours only.
You should continue to set KPIs based on people's roles. For example, your sales team might be evaluated based on their monthly calls or lead-to-close growth. Your IT team might be evaluated on how quickly they resolve issues or server downtime.
When managing a hybrid team you could also consider using KPIs based around self-motivation and communication. Ask yourself:
How many tasks does your employee complete on time (not counting times when they missed a deadline due to things outside their control)?
Does your employee let their line manager know if they won't be able to deliver on time, and if so, do they let them know when they'll be able to deliver?
Is your employee on time to video meetings and do they respond promptly to emails?
Are they organised in a remote setting? E.g. if they're responsible for running meetings, do they share the agenda with participants in advance?
4. Hybrid working policies/handbook
We can't stress the importance of having a hybrid working policy/handbook enough. Have something clear and tangible that employees can refer to when they want to familiarise themselves with remote working rules and expectations. Check out this hybrid and remote work policy template for ideas. Your document should include:
Hybrid working eligibility
Work schedule
Communication channels
Tech tools, resources and protocols
Remote work environment expectations
5. Focus on wellbeing and mental health
Lots of us have struggled with feelings of loneliness during the pandemic, and working remotely can exacerbate these. As you transition into hybrid working, put measures in place to make it easy for employees to connect with their team. Regular catch-up calls and in-person team lunches once a month or week can really make a difference to morale.
Above all, check in with staff to find out how they're feeling and create a work culture where talking about mental health is the norm. You might also want to offer your line managers additional mental health training. The mental health charity Mind runs an eLearning course for line managers, which is well worth a look.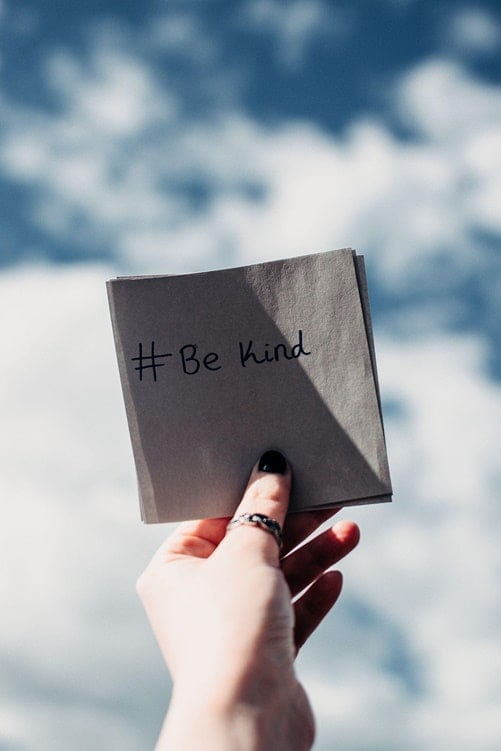 6. Regular catch-ups
Ideally, you should aim to catch-up with each member of your team once a week to ensure they're doing okay and working to schedule. By maintaining regular contact you can intervene and offer support quickly, before any issues escalate.
Don't forget to ask non-work related questions too. Why not find out about your employees' career ambitions, for instance? Many hybrid companies run remote mentoring programmes to ensure everyone has access to the same opportunities for in-job development. Mentoring is very effective when it comes to upskilling and retaining talent.
7. Home office furniture
Some organisations are taking on the cost of furnishing their employees' home workspaces by investing in ergonomic desks and chairs. Whether you're footing the bill or not, it's imperative that your employees' home desk space meets some basic requirements.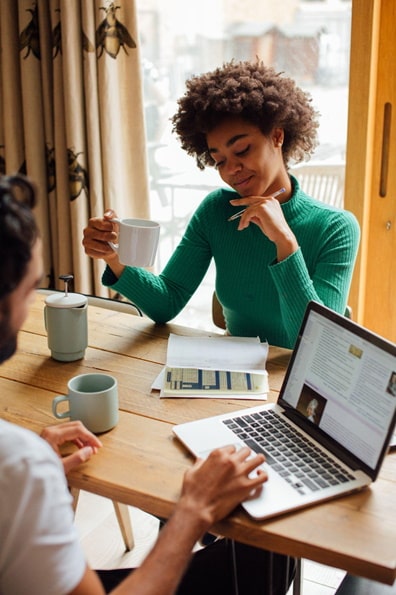 8. Evaluate as you go
Hybrid working is a new working practice for most of us. Hybrid working during a pandemic is new for all of us. See your hybrid working approach as an evolving work-in-progress. Survey your staff regularly to see how they're getting on, and reevaluate your policy every six months. Here are a few questions you could ask your team:
Are our hybrid work policies clear?
Are your daily and weekly work objectives clear?
Do you feel supported and trusted in your role?
Do you have everything you need to fulfil your potential? If not, what's missing?
Do you feel connected to your teammates when working from home?
What's your biggest challenge when working from home?
On a scale of 1 to 10, how would you rate your work-life balance?
9. In-person socials and meetings
Video-conferencing tools like Zoom are great for facilitating virtual meetups, but they can't replicate the power of in-person meetings. As a newly hybrid business, you should consider what your strategy is when it comes to virtual meetings and social gatherings.
Think about your transactional (sales) meetings with clients. Are you going to meet virtually or in-person? According to a Forbes survey, 85% of business executives prefer face-to-face meetings and conferences because they allow them to build stronger, more meaningful business relationships with clients.
The same goes for team meetups.
The software company Buffer has always operated remotely. However, they make time in their schedule (and budget) to meet in person. "It can be quite a challenge to brainstorm remotely," says Hayley Griffis, Head of Public Relations at Griffis.
"If everything is happening asynchronously in a paper doc, then it can often take a really long time to build momentum on a new idea. Or, if there's a discussion happening synchronously in a Zoom video call, it can be difficult to know when to speak and often two people start talking at once, or some people don't speak at all because it's difficult to cut in."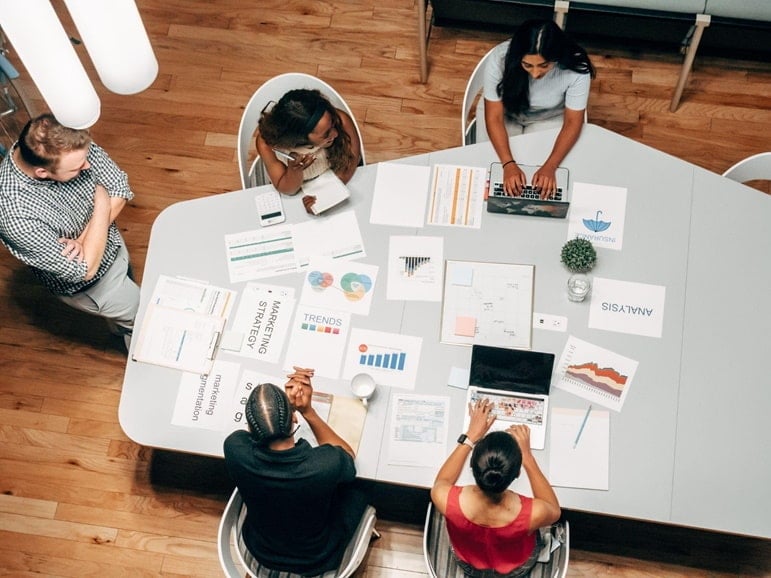 10. Cybersecurity
Managing cybersecurity for remote employees has been a challenge for some companies over the last 18 months because distributed workforces can pose a higher risk. Organisations can be more vulnerable to cyberattacks if people are connecting to the network from different devices.
Consult your IT team and figure out how you're going to safeguard sensitive information. You should be using password protection on confidential documents and telling staff not to download unauthorised software on company devices. Your company should adhere to data encryption standards too, and staff should consult IT before responding to suspicious emails.


If you need help managing your hybrid team, Free Office Finder is here for you. We'll secure an office for you on flexible terms, whether you're looking for a handful of hot-desks for a small team or a large office for a growing firm. Start your search with us today.