The coronavirus pandemic has acted as a catalyst for hybrid working. In fact, as many as four in five UK firms are embracing the model as we emerge from the lockdown. At Free Office Finder, 85% of the enquiries we're currently receiving in the last 60 days are from businesses looking to accommodate hybrid working, up from 0% 24 months ago.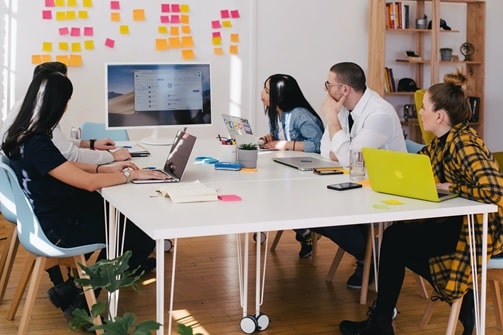 What is hybrid working?
Hybrid working combines elements of remote and on-premises working. Depending on whether their role allows for flexibility, the employee can decide where they work and sometimes even when they work, splitting their time between the office and home.
KPMG is just one example of a large organisation that has decided to switch to hybrid working. Its staff can work from the office four days a fortnight and leave early once a week.
Its chief executive, Jon Holt, summed it up nicely when he said: "We trust our people. Our new way of working will empower them and enable them to design their own working week. The pandemic has proven it's not about where you work, but how you work."
Companies can approach hybrid working in a myriad of ways. They may decide to provide employees with complete autonomy over where they work, but they are more likely to implement a system, such as a rota or the ability to book hot-desks in their office.
Not everyone is on board with the hybrid trend though. In May 2021, finance firms Goldman Sachs and JP Morgan explained that all their employees would be returning to the office in the summer due to remote working not aligning with their company culture.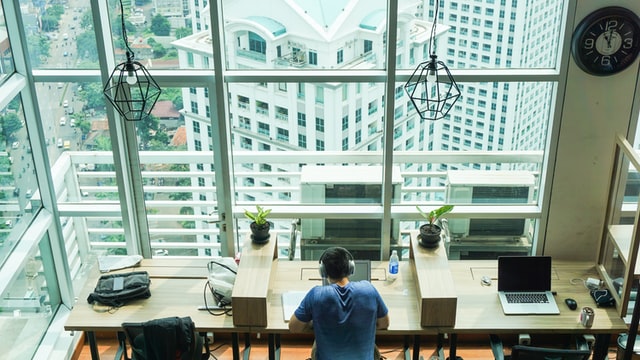 What is a hybrid workspace?
You may have heard the term "hybrid workspace" recently. While the word itself is relatively new, the concept behind it has been gaining traction for a few years now.
It's simple really: a hybrid workspace is an office that is able to accommodate hybrid teams, and it's more commonly known as a flexible workspace. Rental agreements tend to be short-term, enabling businesses to downsize or scale up - if they decide to ditch the hybrid approach or hire more employees - at very short notice.
Skim down to the last section to find out how flexible workspaces can help facilitate hybrid working practices across different sectors of the economy.
Why do employees love the hybrid model?
A recent survey by Envoy and Wakefield Research on hybrid work found that nearly half (47%) of employees would search for a new role if their employer chose not to adopt a hybrid working approach. So what makes hybrid working so incredibly popular?
1. Higher productivity rates
When working from home or from a "third space" such as a coworking space or public space, people have more control over when and how they work.
When the office-centric workplace culture reigned supreme, the majority of people felt the pressure of having to be behind their desks and working at full steam by 9am sharp.
At home, we can work more intensely when we're more productive and take breaks when it suits us, as opposed to following the consensus.
Depending on our own unique circadian rhythm, we might choose to start slightly later and work into the evening - or vice versa. That said, not everyone feels productive at home or has a home environment that is conducive to work. It's important, therefore, to always provide employees with the option to work in an office environment.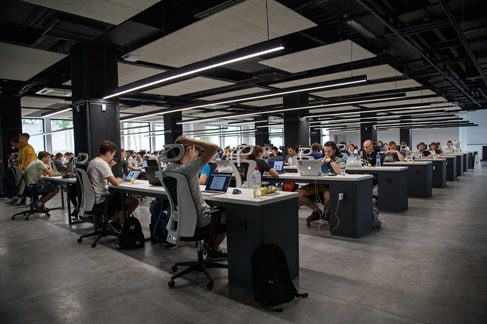 2. Better work-life balance
Hybrid working allows employees to establish a healthier balance between life and work. It's often easier to find the time to be able to do those everyday personal tasks when working from home, whether it's picking the kids up from school or receiving a delivery.
However, if hybrid working isn't managed properly, it can actually have the opposite effect, with employees working longer hours and feeling like they have to respond to emails outside their contracted hours. Going hybrid can be the perfect time for a company to re-evaluate its culture and establish new expectations and boundaries for a hybrid workforce.
3. Lower infection rates
Hybrid working can help drive down coronavirus infections because there are fewer people mixing indoors. Having a remote work policy in place also enables office workers who need to self-isolate - but don't feel unwell - to continue working.
Employers should be wary of presenteeism, which is when someone continues to work even if they're unwell. This is harder to monitor remotely, so it's important for managers to maintain positive and open working relationships with their team.
4. Access to global talent
By operating more flexibly, businesses can gain access to a much wider pool of talent instead of being restricted to hiring in a specific location. They are more likely to find prospective employees with the best skills and experience for the role.
5. Reduced office expenses
For some companies, going hybrid can lead to a reduced office footprint and lower office rental costs. Some firms are choosing to replace their office lease with a much more cost-effective flexible workspace agreement, for instance.
Real estate savings can be reinvested into new talent or markets, or could be redistributed to provide hybrid workers with more workplace options, such as a membership in a coworking space close to where they live. Increasingly, employers are choosing to add a coworking membership to their list of employee benefits/perks.
How can businesses transition to hybrid work?
For hybrid working to work, companies need access to the infrastructure to support it. Inflexible real estate options just don't cut it in an era of agile business practices. Dynamic workspaces hold the key when it comes to empowering employees to be productive and happy. Fortunately, flexible workspaces are designed with these things in mind.
Transitioning to hybrid work is much easier in a flexible workspace. From satellite offices to accommodate geographically dispersed teams, to a HQ with availability to scale in, they meet a variety of business goals and come in a variety of shapes, sizes and styles.
The spaces themselves are also 'hybrid' in the sense that they contain a mix of distraction-free desk spaces, collaborative work areas and AV kitted-out meeting facilities that enable in-office workers to connect with remote workers.
If you're looking to kickstart your hybrid working journey in a flexible workspace, start your search today.