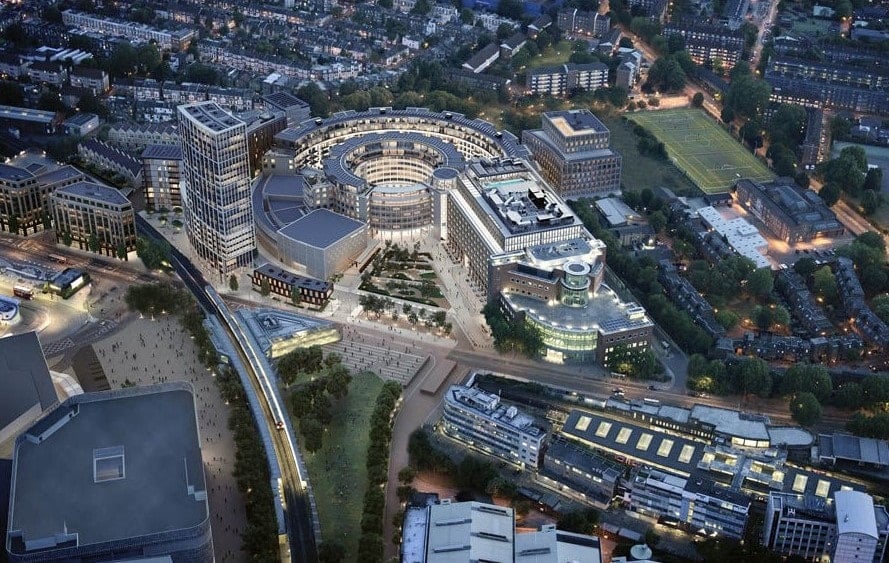 White City Place
ITV Studios has reported it is relocating its daytime production business. Formerly based at South Bank, the production company will now occupy The WestWorks building in White City, which previously housed the BBC Media Village.
During the redevelopment of its South Bank site, ITV will take up 27,000 sq ft of modern office space at White City Place. 350 ITV staff will move into The WestWorks building in 2018.
ITV will also sub-let studio space from BBC Studioworks in the Television Centre, located nearby. Originally part of the former BBC TV headquarters, the Wood Lane business district is now undergoing redevelopment. When completed, it will comprise 1m sq ft of office space.
WestWorks consists of 300,000 sq ft of modern office space and 35,000 sq ft of independent cafés, restaurants and leisure fitness studios.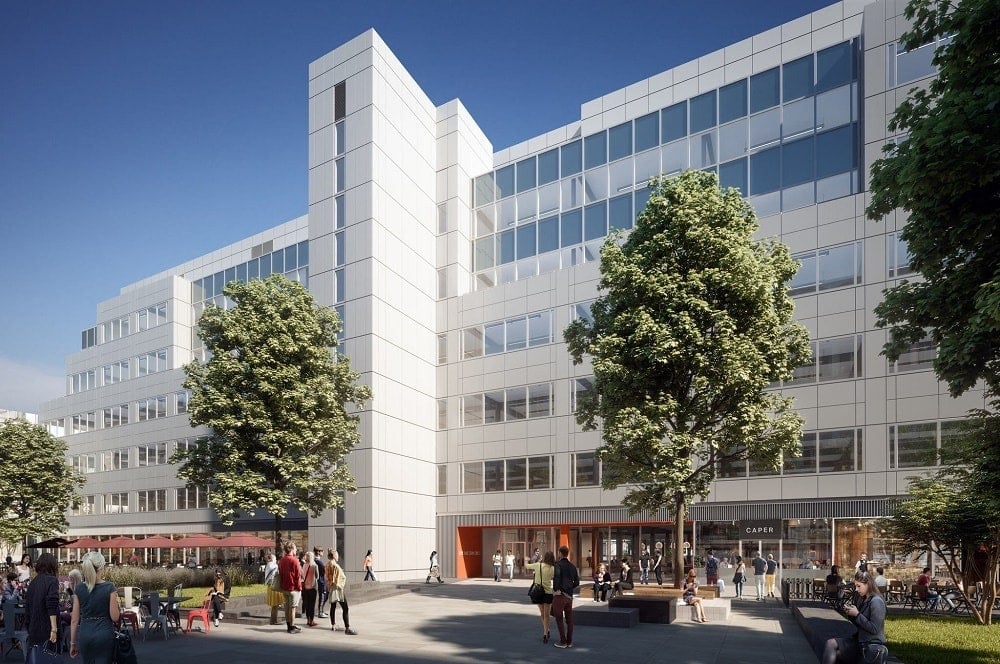 CGI depiction of Westworks building entrance
In June 2015, Stanhope teamed up with Mitsui Fudosan and AIMCo to purchase four acres of freehold land and the lease of six buildings from the BBC for £87m. The site, which hosted the 1908 Olympic Games, was previously acquired by the BBC in the mid-1980s. Previously called the BBC Media Village, its new owners renamed it to White City Place.
David Camp, chief executive of Stanhope, said: "Television Centre already includes the headquarters of BBC Worldwide, three state of the art studios operated by BBC Studioworks and a new Soho House members club, rooftop pool, gym, hotel and restaurants."
Camp continued, "It is fantastic that ITV will be moving into the studios at Television Centre and joining more than 3,000 existing BBC staff at White City Place, alongside Yoox Net-a-Porter, the Royal College of Art, Huckletree and Imperial College's new White City campus next door on Wood Lane."
In addition to WestWorks, MediaWorks comprises 231,000 sq ft of open, flexible office space and 17,500 sq ft of retail while Garden House has 40,000 sq ft of offices surrounded by landscaped gardens. The three other buildings at White City Place - the Broadcast Centre, Energy Centre and Lighthouse building - totalling around 400,000 sq ft, will continue to be occupied by the BBC.
Eiichiro Onozawa, managing director of Mitsui Fudosan UK, believes that the new tenants will "form the core of the regeneration of White City".