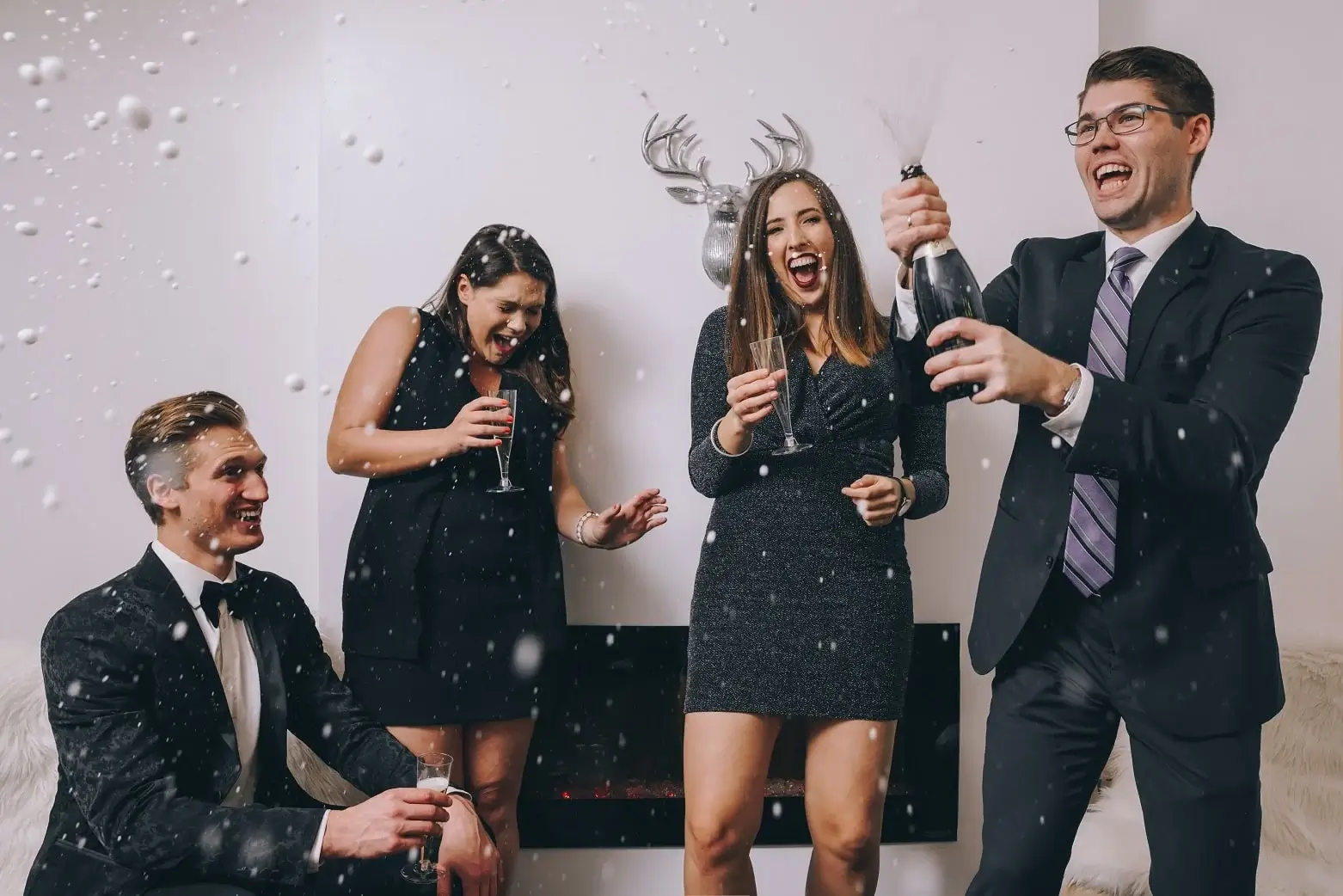 This is the most popular week for office Christmas parties, so we've decided to ask office workers across the UK about their intentions to drink at their office Christmas celebrations. There is always advice and horror stories out there about employees getting themselves into a drunken mess, so we have tried to find out just how much of an issue it is.
We asked 1,400 office workers a set of questions about their upcoming staff office party.
59% Plan on Being Drunk or Really Drunk at the Party
The first question simply asked respondents how drunk they intend to get at the party. The options included:
• I won't drink a drop
• One or two drinks
• Tipsy (a few drinks)
• Drunk (around 10 drinks)
• Very drunk (15 drinks plus)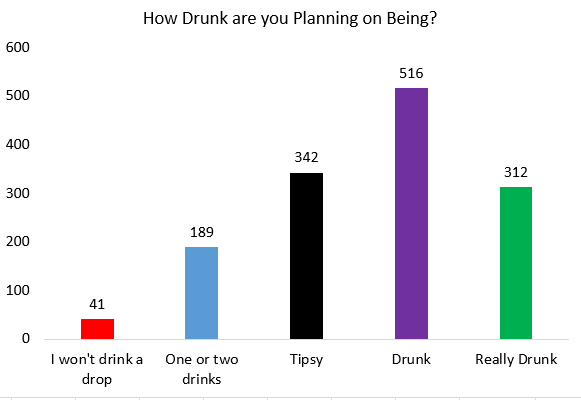 Overall, 59% of all the office workers we asked said they are planning on either being drunk or really drunk at the party, with 22% planning on having 15 drinks or more!
On the opposing side, only 16% of the people taking part in the survey said that they won't be drinking or will only be having one or two drinks.
25 and Under: 70% will have at least 10 Drinks
As we also asked the participants their age, we could also split the results into different age groups. 410 out of the 1400 office workers we surveyed were in the 18-25 age group, and the results were even more shocking here.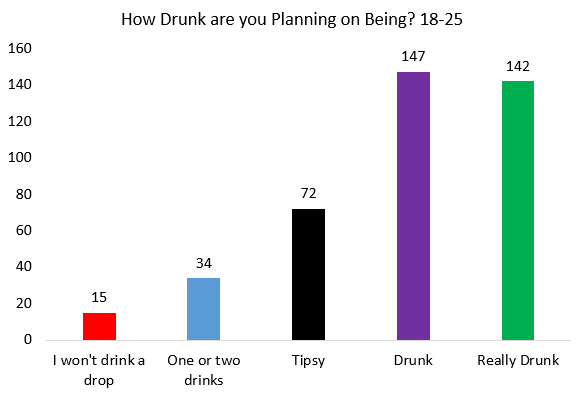 Out of 410 participants, 289 office workers under the age of 26 are planning on having at least 10 drinks at their upcoming staff party – that's 70% of the entire age group. Just over a third (34%) are planning on drinking at least 15 drinks. Although it's only one night and people naturally want to let their hair down at the office Christmas party, binge-drinking can have serious effects in later life.
60% Have Embarrassed Themselves
As Christmas parties are normally a treat from the employer, it's no surprise that people will sometimes drink a bit too much. With so many people drinking way too much, there's always the possibility of people doing something embarrassing.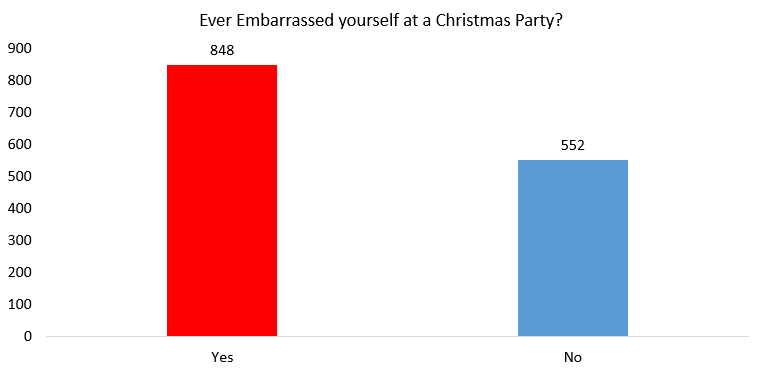 Out of the 1400 office workers who took part in the survey, 848 have admitted to embarrassing themselves in the past, that's a whopping 60%! We also gave the participants the option to (anonymously) tell us what they actually did to embarrass themselves. Here are some of the most memorable answers:
• I fell flat on my face spilling a full tray of drinks
• I called one of the directors of the company a W word
• After a few shots I threw up all over the place, including my shoes and the floor
• Fell asleep on the toilet with a drink in my hand. Woke up with drink all over me
• At our work parties we usually stay at the hotel that hosts the parties. Once year I got up to have a glass of water and fell into the glass head first, which led to an ambulance being called and me needing stitches.
• Sometimes when I get drunk I get really emotional, start hugging everyone and telling them I love them. I did this at the office party but to people who I hardly speak to in the office. I dreaded the Monday
• We were allowed a +1 at one of my old employer's parties. My ex started a massive fight with one of my colleagues and had to be arrested. I was so embarrassed I never went back
63% Haven't Learnt from their Mistakes
With some of these horror stories, especially ones that have cost people their job, you'd expect lessons to be learned and people to try to avoid similar situations. According to this survey, however, it appears that out of the 848 office workers who have embarrassed themselves previously at Christmas parties, 523 of them are planning on once again getting drunk or very drunk, which is 63%
Regardless of whether you plan on getting drunk at this year's Christmas party or not, it's important to remember that many people in the past have been sacked because of their behaviour. Although it's an exciting time of year and everyone loves a party, make sure you don't end up like 60% of our participants and do something you'll later regret.