FreeOfficeFinder has recently produced a survey of 10,000 office workers across the UK to see how many people are having sick days without actually being sick. We were interested in finding out how much of a problem fake sickness was across the country, and what the general attitude was towards sickness among office workers.
We realise that the vast majority of people who call in sick do so for legitimate reasons. Here is a page on the government website that explains workers' rights when it comes to sickness absence - https://www.gov.uk/taking-sick-leave.
The results
Out of the 10,000 participants, 3097 admitted to lying about having time off sick in the past twelve months.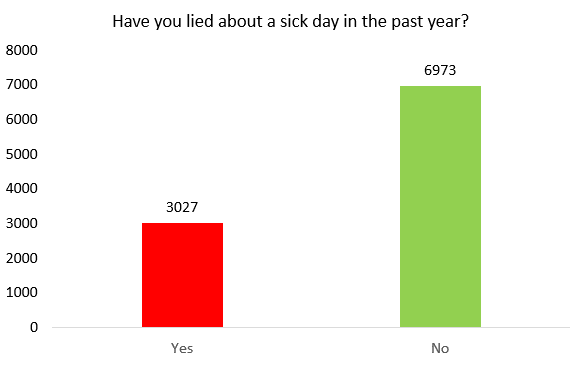 We then asked the 3027 participants who said yes whether it was on one or more than once occasion. It turned out that 1758 (58%) admitted to doing it once, with the remaining 1269 (42%) had lied about a sick day on more than one occasion.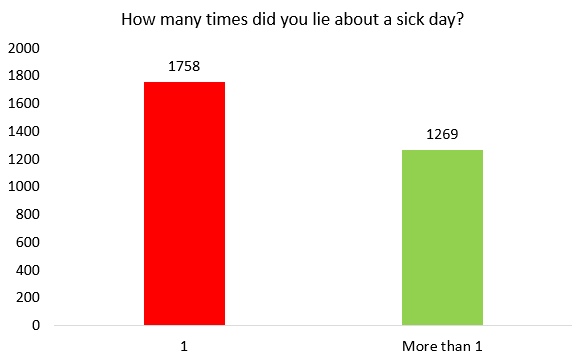 Our next question was also aimed at the 3097 participants who admitted to lying. We asked them what was the reason for having time off on their last sick day. Of all the options, a hangover was the cause of almost half (1473) of all sick days. Dreading work (574) and no reason (455) were the most popular second options.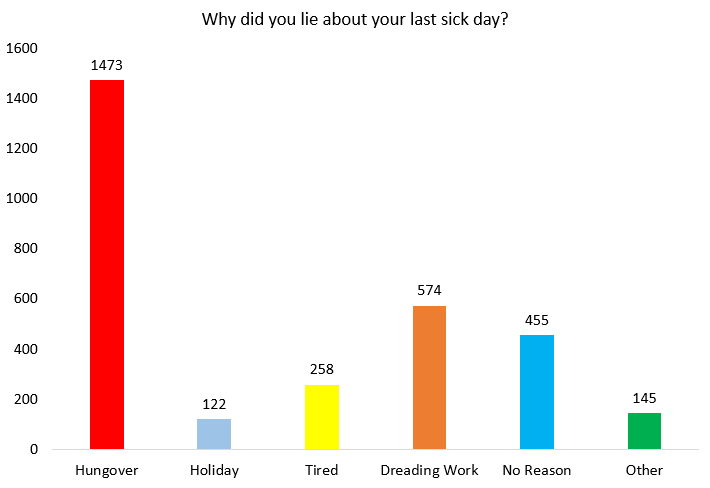 There were 145 participants who answered "other", and were given the option to explain what their reasons were. These included:
"My cat died and I was too depressed to go in."
"I started watching Breaking Bad and had to take a day off because I was so addicted to it."
"My boss was annoying me."
"I get paid for having days off sick so it would be stupid to not take some."
Our final question asked the participants whether or not they felt guilty about taking time off when they weren't really sick. 926 (30%) said they did, while 60% of the participants didn't feel guilty at all.
Gender Differences
We wanted to see whether there was any noticeable difference between men and women when it came to taking time off. Although we did get a fair representation, there were slightly more men who took the survey than women. In total, 5769 men and 4231 women took part in the survey.
Although there were more men who took the survey, there were more women who admitted to lying about having time off work. 1562 women admitted to doing this at least once in the past year, which was 37% of all women who were surveyed, while only 25% of the men surveyed admitted to lying about having time off in the past year.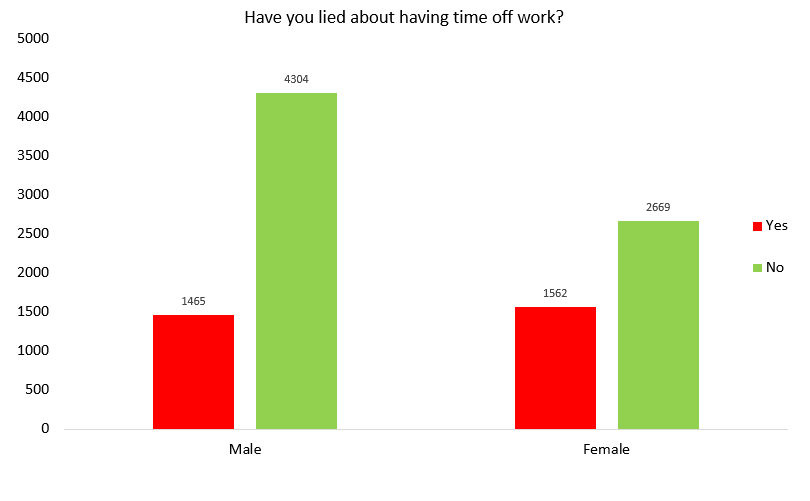 Age Differences
As well as gender, we wanted to know whether or not lying about time off was consistent with age. Like gender, there were differences in the amount of people who we surveyed from each age group, but there was a fair amount of representation from each one. There were 3203 participants from the 18-25 age group, 3760 between 26-30, 1905 31-35 and 1132 for 36+.
Surprisingly, there was a higher percentage of people who lied about having time off from the older age groups than the younger ones.
As you can see from the chart, a much larger percentage of the participants older than 30 admitted to lying about time off. Only 21% of the 18-25 age group admitted to lying about taking time off. 27% slightly older age group of 26-30 answered yes, with 46% of 31-35 and 41% of the 36+ age group admitting to taking a sick day without actually being ill.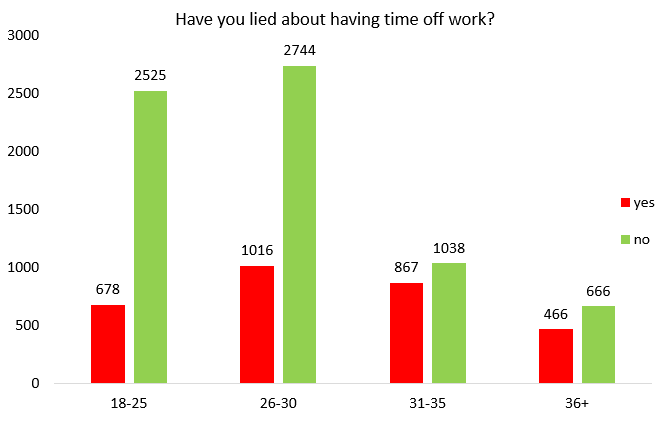 Locations
To find out how different attitudes were across regions, the survey was split across 10 different cities, with 1,000 participants each from the following cities:
London, Leicester, Leeds, Plymouth, Glasgow, Cardiff, Newcastle, Cambridge, Birmingham and Manchester.
Out of the cities in question, participants from Leicester were more likely to have lied about taking time off, with 431 answering yes. This was almost half of all people from there who took part in the survey. Cardiff and Newcastle also had a large percentage of people who answered yes.
On the other end of the scale, only 186 of the participants from Plymouth admitted to lying about taking time off work. This made Plymouth the only city with less than 20% of the participants answering yes. Glasgow (212) and Cambridge (245) were the next best cities.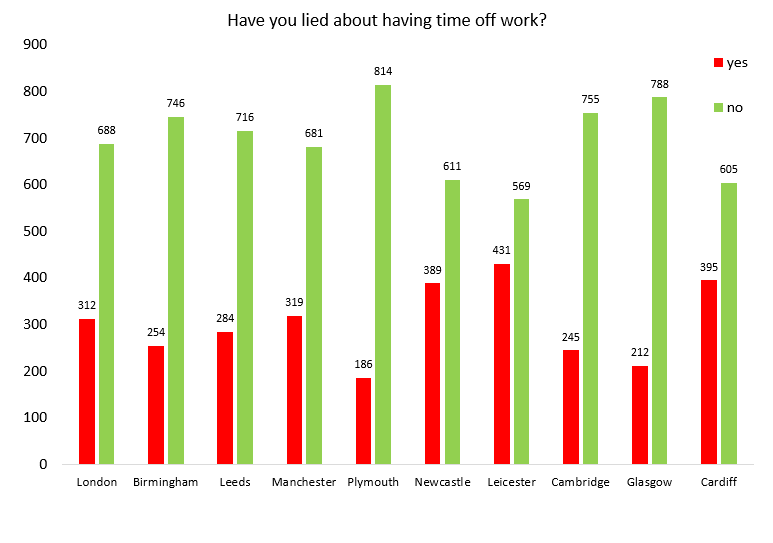 Conclusion
Two-thirds of all the office workers who were surveyed said that they haven't lied about taking time off work in the past year. This is a fairly positive sign that in general, UK office workers respect their jobs, employers and colleagues.
Although there are some differences between gender, age groups and locations, out of the 10,000 people we surveyed, only 1269 of them admitted to lying about having time off work on more than one occasion.
It's impossible to stop all staff from lying about time off, but there are ways to ensure that it's minimised. Places of work with a high amount of sickness could look into things like flexitime or other ways of boosting morale among staff.