Office Space & Serviced Offices to rent in East Midlands
As the proud home of Robin Hood, Lara Croft, and Isaac Newton, the East Midlands serve up an interesting medley of characters and cultures. Its economy is equally as diverse, and it is home to companies that are world leaders in a variety of industries, ranging from bioscience and engineering to the food and drink industry.
Leicester, East Midlands
Not only does the region nurture its home-grown businesses, but it also attracts leading international companies. Toyota, PepsiCo, Siemens and Speedo make up just a small sampling of the major corporations that have either factories or offices in the East Midlands.
East Midlands Cathedral.
Although the East Midlands has gained a reputation as a hub for talented engineers, the region's creative industry contributes more than 7% of its economy. Around 15,000 people employed in creative jobs in the city of Nottingham alone. One of the best-known creative companies based in the region, Games Workshop, has achieved international renown with the success of games such as Warhammer and the Lord of the Rings Universe. The region is also the birthplace of fashion designer Paul Smith, who was inspired to pursue a career in fashion after working at a clothing warehouse in Nottingham.
Grimsby is a popular port city in the East Midlands
The creative industries are actively encouraged by the local government through schemes such as Friar Gate Studios. The Friar Gate Project makes flexible office space available in Derby, specifically for creative businesses. In an effort to encourage the local economy, Derby City Council has also made available managed office space in Derby City Centre through its Connect project. The project is aimed at helping out SMEs and start-ups in the area and is funded by the European Regional Development Fund.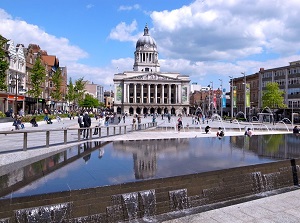 Nottingham, East Midlands.