In a study of our Q2 figures, we can report that take-up of co-working office space across the UK has doubled since the Brexit vote.

From our database of 2,150 office locations, 6.05% of clients that rented office space chose co-working spaces between July 2015 and June 2016. That percentage doubled from 6% to 12.4% for the period of July 2016 to June 2017.
This comes as no surprise to Managing Director, Nick Riesel, after the company recently announced a 22% increase for serviced and co-working enquiries since Summer 2016. "I believe we've seen a big jump partly due to a large amount of co-working spaces that have come onto the market in the last 12 to 18 months. Post-Brexit uncertainty has caused many businesses either lay off staff or stop hiring, which in turn has prompted many to start up on their own. Co-working take-up has benefitted from these new ventures, and their success should eventually provide a further boost for private flexible workspace."

London's tech industry, a prominent client base for co-working office space, received an unprecedented level of venture capital investment in 2016. Riesel added: "We predict a rise in the take up of co-working space in the next few years. However and depending on what new trends and demands emerge, that could change".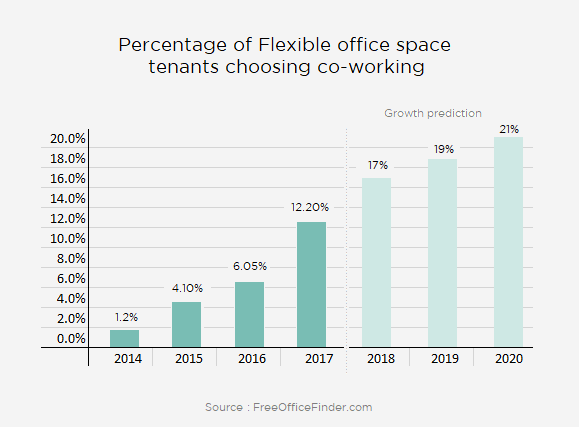 WeWork is the workspace provider leading the pack for most amount of newly acquired space. Their most recent acquisitions include two of the largest real estate deals of Q2, namely 283,500 square foot at Two Southbank Place and 141,200 square foot at 125 Shaftesbury Avenue.
This investment activity will lead to further expansion of co-working and perhaps a bigger market share for new workplace styles like pro-working.