There are lots of reasons why you might be changing your office space, whether that is expanding your hobby into a full business, or that your existing business is growing. Whatever the reason for wanting to upgrade your office, it is essential that you choose the right office space for you. With so many choices out there it can be confusing, especially if you're in a position to consider long-term office space options. In the past you would probably have opted to find your own premises, and arrange to let this from a landlord, ready to go it alone.
Whilst renting office space in this way is still a good option for lots of businesses, over the last few years a couple more options have started to become available. This is great because it means that there are suitable office space choices for everyone, including those that would prefer to go down a route that offers a bit more flexibility. With fully serviced options, flexible desk rental options and coworking spaces all popping up in abundance, they offer a great option for business of all sizes but especially small to medium-sized businesses that don't have the budget for their own full-time office space. With so many options out there, it can be hard to know which one is right for you. We have put together a fool-proof guide to help you make up your mind.
What Are The Options?
There are three main options when it comes to office space – leasehold, serviced and coworking spaces. They all offer viable choices for different businesses; you just need to decide what is right for you.
Leasehold
This is the more traditional way of setting up a business and it still works for many companies. You will find a space that offers commercial offices and agree on a rental contract with the commercial landlord. Usually, in this case, everything then is down to you – managing the utilities, looking after the premises and even sorting out all the office furniture.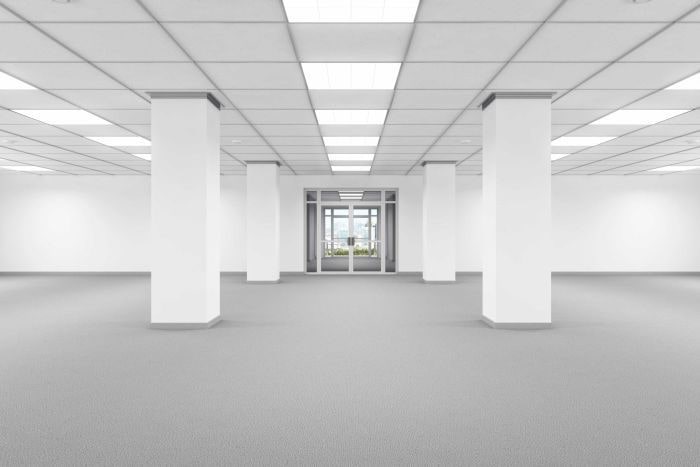 Pros
Control – As you are renting just the office space, you remain in charge of how it is decorated, the office layout etc. This can be important if you want an office that includes company branding
Long Term – Often these rental agreements are long-term, generally with a minimum of 36 months. So you can feel confident that your business will be run from the same premises for a set amount of time.
Cons
Not Very Flexible – On the opposite side of the coin to having a long term contract, it also means you are committed to staying there. You can't change your mind or move premises without a possible penalty for breaking your lease agreement. This also means you will be unable to upsize or downsize your space, leaving little room to grow the business.
Hard Work – As you're renting the office space alone, you have the hard work of getting the office ready to go. You need to source all the equipment, arrange things like the internet to be connected and get everything good to go in time for opening.
Cost – The monthly cost of leasehold premises can be affordable, especially if you are signed in to lengthy fixed contracts. However, you have to remember that you'll have a number of initial outlay costs for setting up the office, such as sourcing furniture etc.
Serviced
Serviced offices are all-inclusive, meaning your rent includes internet, business rates, phone lines, office furniture and even a manned reception. You'll even find things like water coolers, cleaning staff and kitchen facilities. This allows you to move into your premises and get started more or less straight away.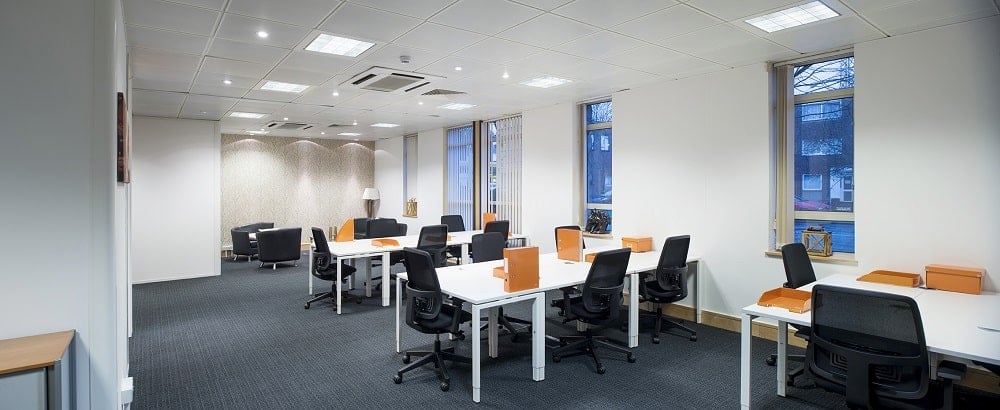 Pros
Flexible – One of the best things about serviced office spaces is that they often offer flexible contracts. This means you can give them short notice periods (usually one to three months) to move to other premises – great for a business where you're unsure how quickly it will grow
Cost – Initially you may assume that your monthly cost is larger than leasehold because your monthly rent will be higher. However, make sure you do a fair comparison on this because as the cost is all-inclusive of your bills etc, it often works out cheaper overall.
Convenience – As everything is in place, you get the option to move in straight away and pretty much get going – great for last-minute business decisions and where your business has outgrown your current premises unexpectedly.
Cons
Control – As you are renting out an all-inclusive office space, you'll be unable to change the décor or layout of communal areas which are used by all the companies in the building
Long Term – Flexibility is great, but if you want to rent a serviced office space for longer you may need to negotiate for the landlord as they don't always offer long term contracts. Most serviced office providers won't offer contracts longer than 24 months. This doesn't necessarily mean you need to move out at the end of this contract – you may be able to renegotiate a new term once the initial contract comes to an end.

Co-working
This is the newest form of providing office space, driven by the recent rise in freelancers. Co-working allows you to rent office space on flexible terms, in a shared environment with other freelancers or companies from a range of industries (There are also some coworking spaces that specialise in providing space and networking opportunities for certain industries).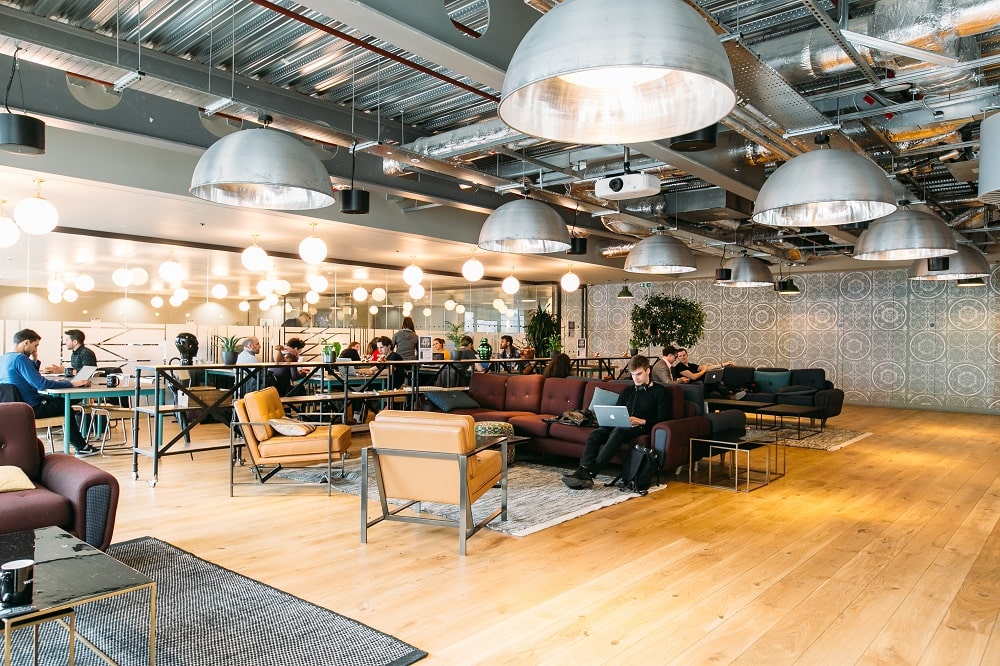 Pros
Cost – Without a doubt, coworking premises are the most cost-effective option. You won't usually have to pay out for your own equipment or office furniture, and you shouldn't have to pay premium on your rental agreement to cover this either.
Flexibility – Coworking spaces are often hired out for very short amounts of time – even by the day in some cases. This is great because it also gives an option to people who usually work from home but just want a professional office space (or some company) on certain days.
Community – Coworking spaces are occupied by a range of businesses, so you'll get to socialise with lots of different people. This can even work for collaborative working and sharing ideas, so is a good thing to embrace if coworking is something you're considering.
Cons
Change – Similar to serviced offices, you will probably find that you can't change much of the office. Not always a problem, but something worth considering if you're thinking about branding your office space.
Social Scene – The social scene of a coworking space can be good, but you also should bear in mind that you will lose some of the privacy you have when working in your own office or from home. It can be good to have an alternative private space to use when times call for it.
Whatever it is you are looking for, there will be options to suit you. Here at FreeOfficeFinder, we'd love to take the hassle out of finding your next office space, so please do reach out if you're starting your search, and we'll be on hand to help.