Whether you're making the step-up from home-grown hobby horse to fully-fledged profession, or simply expanding your horizons onto the next level, the choice of your office space is paramount to realising your maximum potential in the business world. Traditionally, this would have involved sourcing a viable property, leasing it from a commercial landlord and setting up on your own.
While the leasehold option is still an option for many businesses, a couple of alternatives have sprung up in recent years swaying many companies to take a more flexible route. Serviced offices and co-working are now attractive choices, especially for smaller to medium sized businesses. How can you decide which is right for you? Well, the first step – as with whipping up any recipe for success – is knowing your onions.
What does it all mean?
While the distinctions between the three different types of office space are fairly simple, those unfamiliar with their usage might not immediately understand what the differences are. In short, they can be defined in the following terms:

LEASEHOLD OFFICE SPACE
The traditional method of setting out your stall in the business world involves finding a commercial office space and agreeing upon a fixed contract with the landlord. However, you'll be in charge of sourcing all of the furniture, managing the utilities whilst maintaining the cleanliness and functionality of the premises.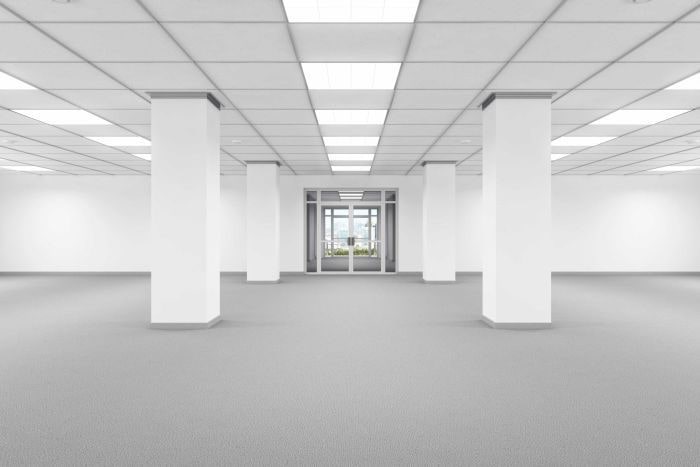 SERVICED OFFICE SPACE
Serviced offices are normally comprised of desks, chairs, internet, phone lines, receptions offering admin help, and even water coolers which are generally installed and ready to use, making the transition into your new workspace as seamless as possible.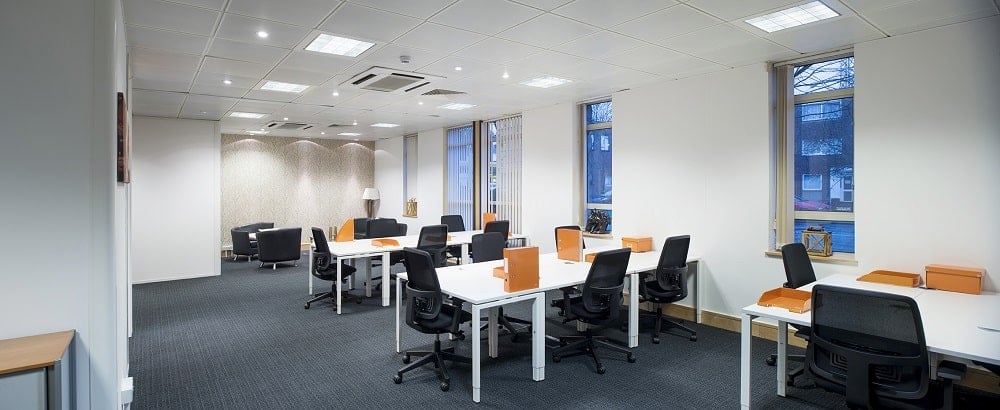 CO-WORKING OFFICE SPACE
A fairly new practice spurred by the recent surge in self-employment (the number of UK freelancers swelled from 3.8 million in 2008 to 4.6 million in 2015), co-working is the ultimate in professional office freedom. It allows individuals to share a workspace with others from other industries for a nominal fee and on a flexible contract.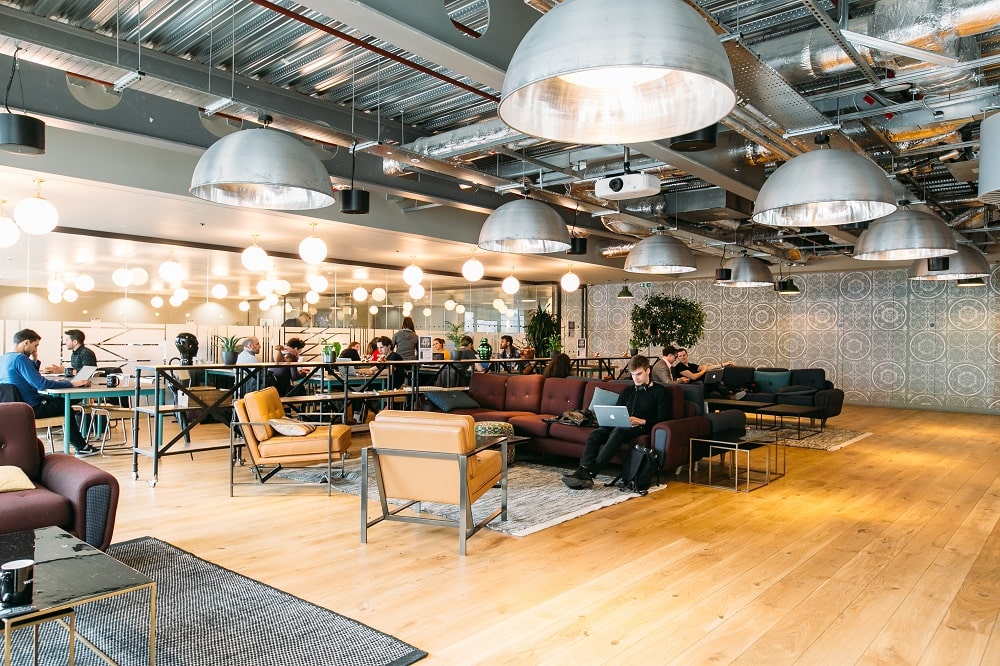 So now you know what the terms mean, how can you decide which is best for your business? Well, the good old pro-and-con list always works a charm in separating the wheat from the chaff, and there's no reason why it shouldn't here.

LEASEHOLD OFFICE SPACE
Pros
Control. Those who take on a leasehold contract have pretty much free reign (subject to terms) over the space they inhabit. This means they can firmly stamp their seal on the workspace, from the design and layout to the amenities and branding.
Longevity With most leasehold office contracts running for a minimum of three years, entering into one is a statement of intent that you believe your business will be the exact size you predict and that you intend to stay in that premises/location. It also gives you the ability to make long-term decisions based on your location.
Cons
Initial outlay. As well as the high start-up costs of buying the furniture and installing the telecommunications infrastructure, if there's a problem with anything (literally anything, from a leaky roof to a faulty phone line), the buck stops with you. Many leases are provided on an 'FRI' basis (Full repairing and insuring) meaning any unforeseen hiccups can cause huge headaches down the line.
Hassle. In addition to potentially costing more, all of the aforementioned obstacles can significantly slow your business down. After purchasing all of your equipment and sourcing your contractors, you'll need to wait until everything has been put in place before you can get to work. Not only is this a time delay, it can also be a logistical nightmare to arrange.
Flexibility. The flipside of having a lengthy contract is that you'll be tied down for a number of years, regardless of how things progress commercially. That means that you'll be unable to upgrade to a bigger space or duck out of your contract if you need to downsize. With that in mind, lease-holding might only be suitable if you're fairly sure of your business' constancy in the foreseeable future.


SERVICED OFFICE SPACE
Pros
Convenience. With all of the furniture, phone lines and general infrastructure already in place, you can often move into your new office and begin work in earnest just days after signing on the dotted line. This takes all of the hassle out of upping sticks and lets you concentrate on the importance business of making your enterprise flourish.
Flexibility. With many serviced office spaces allowing one-month notice periods (and the vast majority rarely asking for more than three), they could be the perfect option for businesses who expect to outgrow their current environment in the coming months and years.
Cost. Whilst it may seem that your monthly expenses are larger than a lease, very often they aren't. You are paying an all-inclusive cost for the office, business rates, utilities, flexibility, facilities and freedom to move.
Cons
Control. When it comes to serviced office space, it's unlikely you'll be able to alter the design of the communal areas as they are shared with other companies. Moreover, many serviced offices share boardrooms and other amenities, limiting your freedom to customise those particular spaces.
Length of term. Although the market has changed and companies can now secure their office for more than 12 months with many providers, it is unlikely that you will obtain an initial contract for more than 24 months. That doesn't mean you need to leave the premises after that period, it normally involves renegotiating.


CO-WORKING OFFICE SPACE
Pros
Price. By far the cheapest option on the list, co-working offers all of the advantages that a serviced office boasts but at a fraction of the cost. You won't have to fork out for IT equipment – and you won't have to pay a premium for the privilege, either.
Flexibility. As with serviced offices, co-working contracts can normally be taken for short periods of time. This allows you to pretty much come and go as you please, getting your work done in a schedule that suits you.
Social aspect. One of the advantages of co-working is the social environment it offers. Many of those who utilise this option are freelance professionals accustomed to working from home, where life can get in the way of business and cabin fever can become a real problem. Finally, being around other like-minded individuals can actually enhance networking connections and cut marketing costs.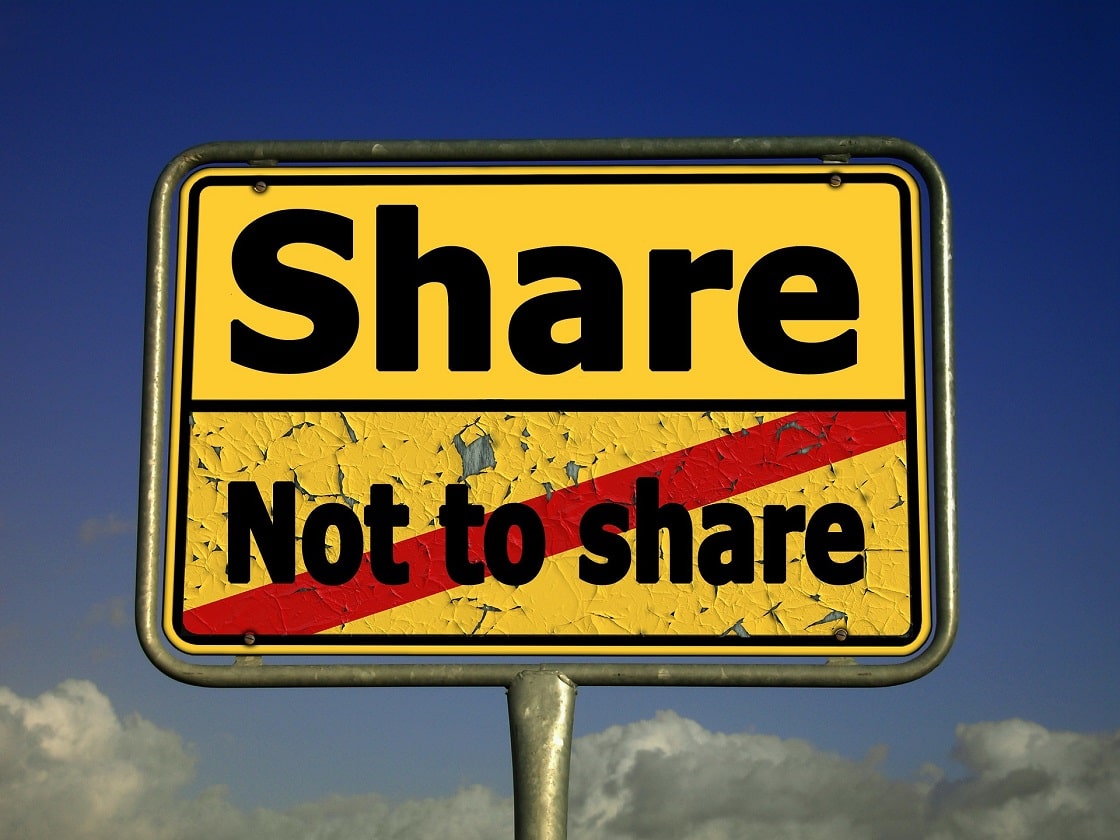 Cons
Privacy. Especially pertinent for companies which prioritise the discretion of their clients or who regularly work with non-disclosure agreements, co-working has little privacy as a form of office inhabitation. You can of course hire meeting space if needed or private booths for calls.
Branding. Without your own office, you don't have the ability to brand your own space. However, many co-working providers do have private space you can progress into when desired.


The choice is yours – but we're here to help
At the end of the day, which office space benefits you will come down to your own unique circumstances and situation. At FreeOfficeFinder, we know that the selection process can quickly become an ordeal in itself – that's why we not only help you locate the next home for your burgeoning business, but also provide in-depth consultancy every step of the way.