Office Space & Serviced Offices to rent in North West
Areas in North West
The North West of England is home to many of the great industrial cities of the 19th century. During that time it became a world leader in the textiles industry. The Industrial Revolution gave the area the impetus for growth, leading to urbanisation on a scale that had never been seen before. The area diversified economically, and became leaders in engineering. By 1835 Manchester was dubbed "the first and greatest industrial city in the world".
Manchester
The unprecedented mechanization and urbanization taking place led to a multitude of social ills that had rarely been encountered before. The result was that the region consequently became a hotbed of political activity. Karl Marx was famously inspired by the conditions of the working class in Manchester. Untill his death he believed that it would not be too long before they started revolting against capitalism.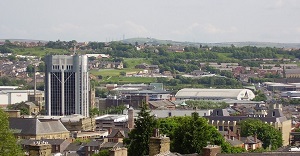 Blackburn
Alas, the revolutions never happened, and today the North West remains a centre of innovation and excellence. Not only did it go on to give the world The Beatles, but its cities have become some of the most economically vibrant in the whole of Europe. The region retains massive productive capacity.
Blackpool
Household goods such as Persil, Surf, Chicago Town pizzas, and PG Tips are all in the region. Many major British retailers have head offices in the North West. Marks & Spencer are based in Cheshire, Matalan in Lancashire, while IBM, Google, Heinz, and L'Oreal have offices in Great Manchester.
Liverpool