If you're slightly – if not very – unsure about how much office space your team needs, just know that
a) you're not alone, and
b) you've come to the right place.
While the way we measure workspace hasn't changed, the way we use it has. For most businesses, the office used to be the second biggest fixed expense after employee pay and benefits. Then the pandemic hit and employers had to adopt an alternative approach.
While some companies have gone back to "business as usual", most are utilising offices differently. According to Free Office Finder data, 64% of business owners, including Correct Group's Adam Coppel, have replaced full-time office life with hybrid working.
How much office space you need depends on how you operate and what your staff want. For instance, if your employees live across the UK or internationally, larger flexible workspace companies can give you access to a global network of on-demand spaces.
How much space is each employee entitled to?
When calculating the size of an office, you'll need to keep your team's wellbeing as well as value for money in mind. Fortunately, you don't need to worry about square footage when you rent an office in a flexible workspace – we'll explain why shortly.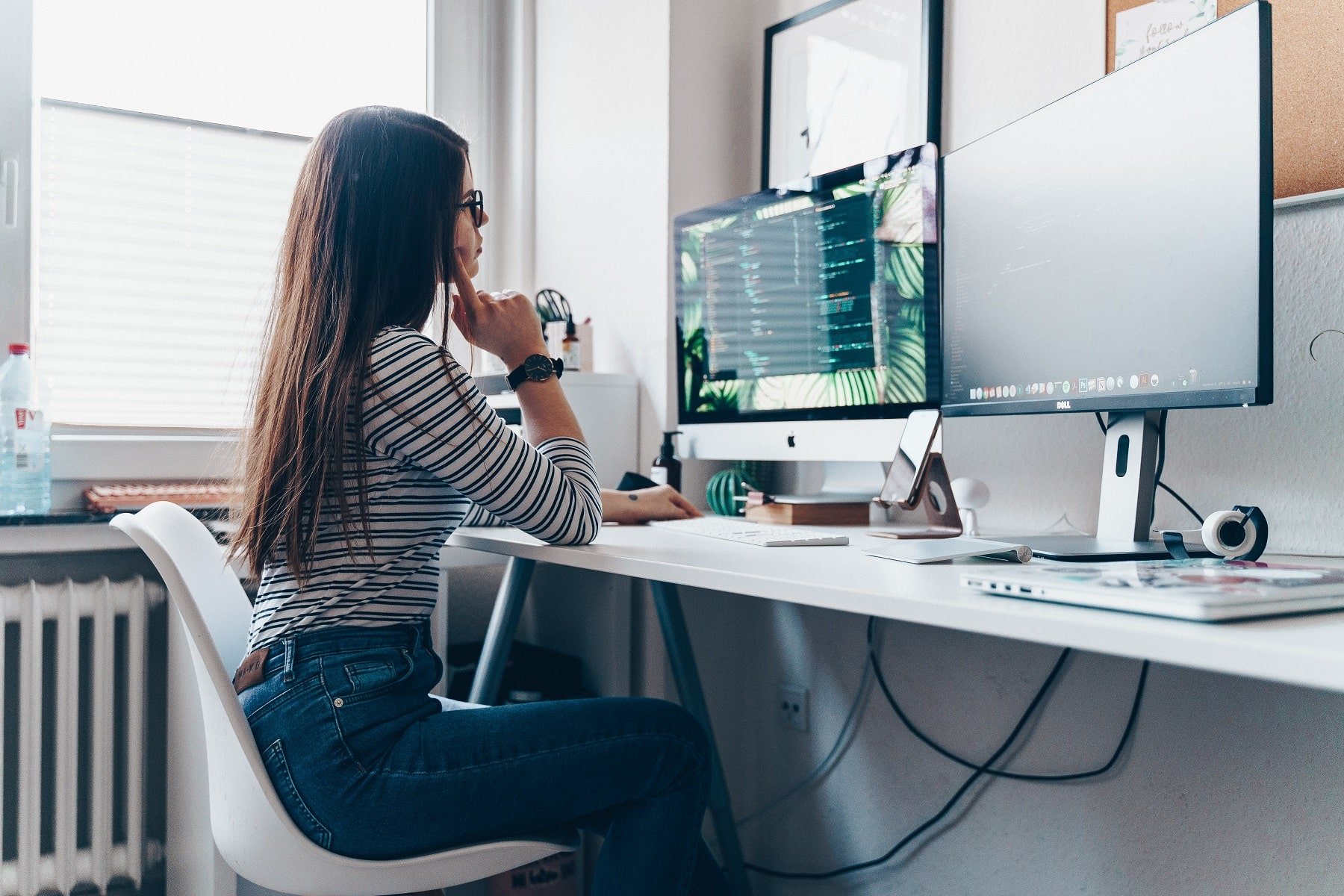 Flexible workspaces are designed with wellness in mind.
Serviced Offices
50 square foot (sq ft) is considered a generous allocation for one person (a desk) in an office. This allows for the actual desk space plus circulation space around the desk.
Many business centres currently offer between 30 to 50 sq ft given that desk and computer sizes have decreased over the years. Additionally, the need for physical storage, such as filing cabinets and cupboards has diminished due to transfer of paper/file storage to cloud/electronic documents.
Facilities such as meeting rooms, kitchens and toilets are shared within the building so there is no need to account for that space within the office being rented.
The size of office you opt for will depend on the type of work being done and the culture you want to build within your workplace. It's up to you how big you want your office to be and how many people you want to put in there. You will find that the higher the spec of the space, the more space will be allocated per desk on average.
Things to consider:
Do you need a desk for every team member?
Will certain teams have set days they come in?
Will employees be able to reserve a desk on a first come first served basis?
Making room for shared amenities
Why do people come to work?
It's not just to gain access to a desk – in many cases they'll already have a suitable workstation at home. People's urge to return to the office is being driven by the social aspect. We want to be near our coworkers and, increasingly, to draw a physical (and psychological) boundary between our home and workplace.
That's why it's important to choose a building that dedicates a significant amount of its floor plan to amenities. Successful buildings have plenty of spaces for people to meet and connect with each other. They also have private meeting rooms and quiet areas dedicated to focused work. When it comes to meeting room sizes, the following is a good rule of thumb:
Small meeting room ( up to 4 people) - 100 square feet
Medium meeting room – (up to 8 people) 150 square feet
Board room – ( up to 16 people) 250 square feet
Conference room – (25+ people) 300+ square feet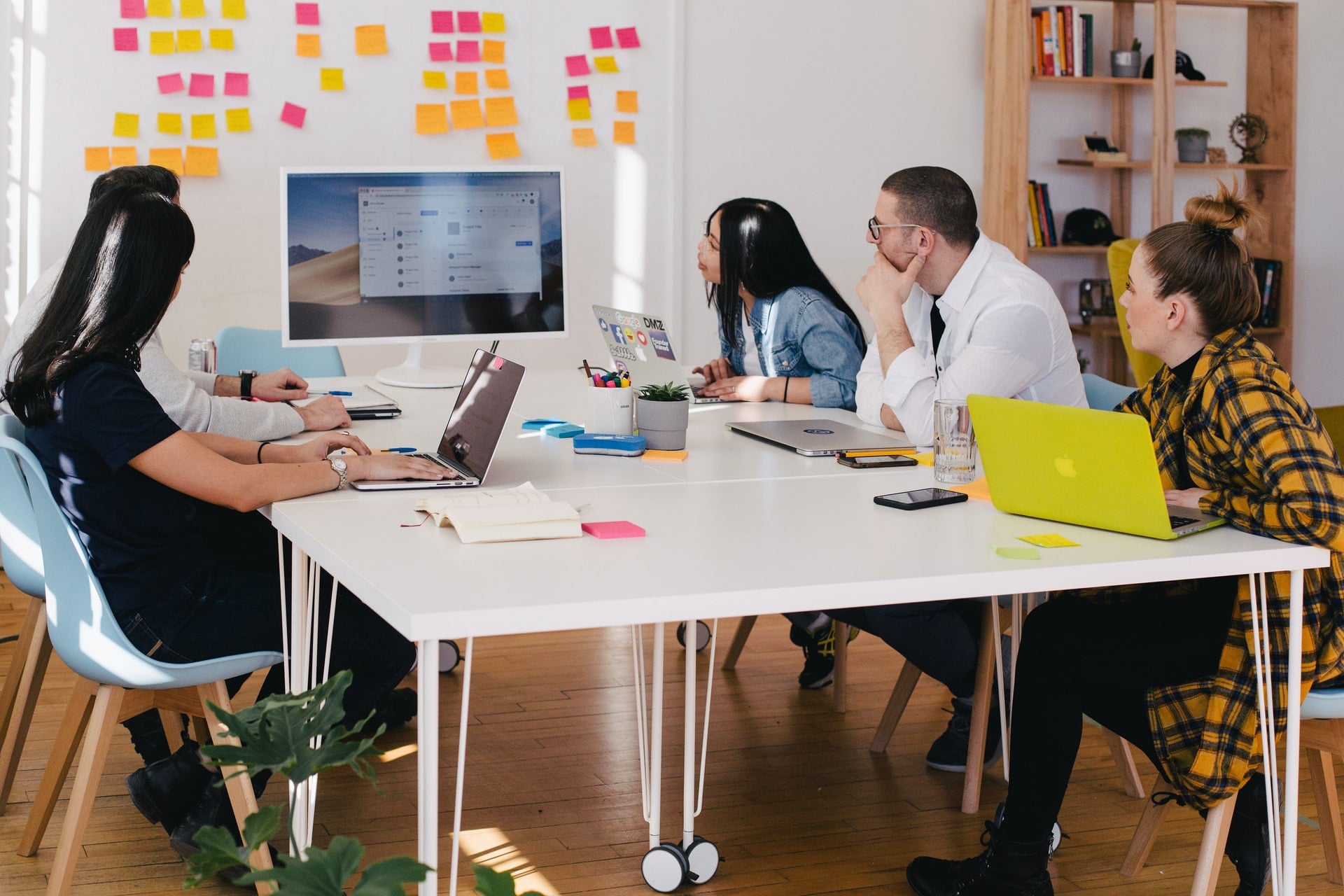 Don't underestimate the added value of onsite meeting rooms.
Do you even need to know all this?
Traditional leased offices are usually advertised and sold on a square footage basis. The good news is, when you move into a flexible workspace – such as a serviced office, managed office or coworking space – you don't need to worry about measurements.
This is for the operator (the landlord or company who manages the building) to worry about when they commission the design, configure the layout and buy the furniture.
Flexible workspaces are usually sold on a "per desk" basis. Desks are already installed in the office so that it's ready for businesses to move into. The desks can be moved around as per your requirements, as long as the new office layout works and is safety compliant.
Another great thing about flexible workspaces is that they typically come with ample shared spaces and amenities. Pay attention to these when you look around and decide whether or not they meet the needs of your employees. Things to look out for include:
Reception
Kitchen facilities
Bathrooms
Meeting rooms and boardrooms
Breakout space for relaxation
Lift and wheelchair access
Phone/Zoom booths
Accommodating changing employee headcounts
The joy of being in a flexible workspace is that you only pay for the space you need at any given time. Every business owner knows that things can change at the drop of a hat. A ten person team might become fifteen in the space of a month.
Conversely, a company might have to downsize significantly to mitigate risk in times of disruption. This level of change can pose a problem in a leased office, but you can switch to a bigger or smaller office with a flexible membership, sometimes within the same building.
Prices can be competitive too. Use our office pricing tool to find out the average price of an office in your chosen area and explore some of our ready-to-move-into options.
Flexible workspaces fall into three main categories. The type you choose will depend on the size of your business, the industry you operate in and your company culture.
A coworking space is an open plan office environment where companies share facilities. Once the domain of freelancers and SMEs, they're now also home to blue chips who want to provide their teams with access to flexible desk spaces in a collaborative environment.
A private serviced office is designed to accommodate companies who want their own space whilst retaining a level of flexibility (and the opportunity to meet and socialise with people from other businesses). Rental agreements can range from one month to a year.
Larger bespoke offices are for those who require a completely customisable space for their team. At Free Office Finder we can source offices for teams of up to 1,000 people. Like serviced offices, bespoke offices can come with desks, chairs and technology installed.
The bottom line – things to keep in mind
If you haven't already, establish the parameters of your hybrid work strategy before seeking an office space. What's the most amount of desks you'll need at any given time?
If you're expanding soon, you may want to consider taking on surplus desks. Alternatively, you can scale up to a larger office when you hire more employees.
Check whether the amenities measure up to your expectations. Ample breakout spaces are key, as are meeting rooms. Are these fitted with AV technology for hybrid meetings?
Gather your team's insights using a survey. What amenities are important to them? How many days do they want to come in? How far are they willing to commute?
We're here to help. If you'd like to arrange some flexible workspace viewings or would like some hybrid work strategy advice, get in touch with Free Office Finder today.